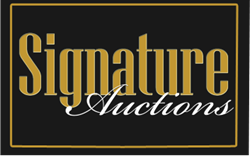 We're excited to bring our over twenty years of experience in the collectible space to the launch of Signature Auctions. We look forward to working with consigners and buyers across the country who wish to leverage our broad network
(PRWEB) July 22, 2015
Signature Auctions has recently launched the nation's premier, full-service online auction featuring the most sought after sports and historical collectibles desired by elite collectors and entry level hobbyists alike. Signature Auctions prides itself on offering some of the lowest fees for buyers and sellers in the business while also offering a full menu of appraisal and insurance services—many at no cost.
As part of their full-service offering, Signature Auctions provides all potential consigners piece of mind with a completely free auction appraisal with no limit on the number of items to be appraised. In addition, Signature Auctions features:

Authentication services at a discounted price to customers as Signature Auctions is a James Spence Authentication (JSA) Dealer.
Insurance appraisals for personal insurance needs.
Cash advances on qualifying items or collections.
Direct purchase available from Signature Auctions
Football bladder replacement and relacing.
Custom matting and framing.
Memorabilia supplies and cases.
Signature Auctions has just launched their first auction at http://www.SigAuctions.com which will remain open until August 5, 2015. The auction features a huge selection of baseball memorabilia, football, basketball and hockey collectibles, as well as personal collections of Jeff Prager's New York Giants memorabilia and Brad Smith's collection of signed Sports Illustrated.
The highlights of their first auction include:

A Babe Ruth and Hank Aaron signed baseball
1947 World Series Team Signed New York Yankees and Brooklyn Dodgers Baseball Incl. Jackie Robinson - Signed During the 1947 World Series
1926 New York Football Giants Sterling Silver Season Pass Presented to Sportswriter Walter Trumbull
Napoleon Bonaparte 1803 Signed Military Appointment Document Display
Prince Charles and Princess Diana Signed and Framed Photograph
"We're excited to bring our over twenty years of experience in the collectible space to the launch of Signature Auctions. We look forward to working with consigners and buyers across the country who wish to leverage our broad network to buy and sell collectibles ranging from the ultra-rare baseball memorabilia to today's most popular athletes," explained Bobby Poll, Owner of Signature Auctions.
About Signature Auctions:
Signature Auctions offers a wide selection of quality autographs and memorabilia available on the market. Our unique understanding and knowledge of autographs and collectibles spans all genres - Sports, Entertainment, Presidential, and Historical autographs & collectible memorabilia. Our Staff has a collective knowledge and experience of 50+ years in the industry. Our knowledge coupled with our extensive list of loyal clientele worldwide, excellent referrals, and our willingness to go the extra mile promoting your collectibles will hopefully allow us the ability to work together to further maximize your return.
Bobby Poll - Owner With more than 20 years in the hobby, Bobby Poll is a name to know when it comes to buying or selling sports memorabilia, autographs, and trading cards.
It all started innocently enough with a few packs of cards. Poll was selling his duplicates at local swap meets at the age of 11 and moved on to mall card shows by age 14. With the emergence of eBay, Poll shifted his operation to cyberspace, becoming an eBay member in 1998. Since then, he has listed more than 1,000,000 items and amassed an eBay feedback total surpassing 49,000!
In 2001, Poll, who holds a degree in finance from Northern Arizona University, began shifting his focus from modern sports cards to the world of autograph collecting and founded the Phoenix-based business Autograph Reference. As an authorized James Spence Authentication (JSA) dealer, Autograph Reference provides an array of collectibles and authentically signed material. Poll operates Autograph Reference with the goals of being respectful to the hobby while offering quality items that will add value to a customer's collection.
Bobby isn't in the hobby just for financial gain. He has also made it his goal to educate novice (and veteran) collectors via three books, including 2010's "Signature Study of Baseball Hall of Famers," a 600-page tome considered by many to be the most comprehensive signature guide; and 2012's "50 Most Forged Sports Autographs," a 344-page guide aimed at assisting collectors from being duped.
July of 2015 will mark a new chapter in Poll's career with the launch of his latest venture, Signature Auctions. "I've been an active buyer and seller with many auction houses across the country, so I know both sides of the business," Poll added. It's those many years of interacting with auction houses that has driven him to create an auction house that is both bidder friendly and allows consignors to achieve maximum sales results. He hopes you will all join him on this exciting new venture and looks forward to serving the collecting community.
-END-
Media Contact:
Christine Holtz
Phoenix Marketing Associates
http://www.PhoenixMarketingAssociates.com
602-282-0202