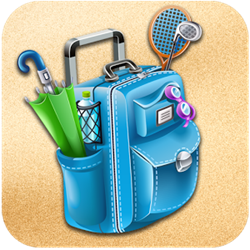 (PRWEB) July 24, 2015
"uPackingList" was featured on NewsWatch as part of its monthly AppWatch, which takes a look at the latest and coolest applications on the market for iOS, Android, and Windows. Joe Toohey, the host of AppWatch and technology expert, conducted the app review and shared with viewers how this application helps people get organized.
Oftentimes disorganization comes down to lack of lists. Well, the uPackingList app is trying to help people get organized. With the ability to create unlimited lists that users can use over and over again for different activities, this app is a major convenience. How many times has someone been on the way to the airport and realized they forgot their passport or that gift for grandma? It's a horrible feeling, but with uPackingList that can be avoided.
To use the app all users have to do is create the list for packing before going on a trip and add every item they'll need. And now they can use this list every time you go on a trip. Users can create a list for anything like, things you need to shop for, or songs to dance to before the night's over – but it's definitely ideal for packing for a trip. The whole point is convenience and not having to keep it all a person's head.
The lists are iCloud supported and can be e-mailed. Users can even add your departure date for trips. uPackingList is available on iOS and Android devices. There is a free version but the full version is a small fee of $1.99 to get access to all the features.
To learn more, visit http://www.nixsolutions.com today.
About NewsWatch
NewsWatch is a weekly 30-minute consumer oriented television show that airs on the Discovery Channel and ION Network. NewsWatch regularly features top technology products and services, mobile applications for iOS, Android, and Windows devices, unique and beautiful travel destinations around the world, health and medical tips, and entertainment interviews on the show. NewsWatch airs on the Discovery Channel at 7:00 – 7:30 AM ET/PT.
NewsWatch is located in the greater Washington, DC area and has been on air for over 25 years. For more information or to watch the most recent episode, visit http://newswatchtv.com/appwatch.html.