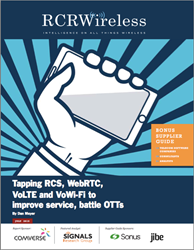 New technologies like VoLTE, RCS, WebRTC and VoWi-Fi are opening up new avenues for mobile operators to offer revenue-generating services consumers are demanding. Dan Meyer, RCR Wireless Editor-in-Chief
Austin, Texas (PRWEB) July 22, 2015
RCR Wireless News spoke with more than a dozen companies, including telecom operators Verizon Wireless, AT&T, T-Mobile US, Deutsche Telekom and Vodafone; vendors like Comverse and Jibe Mobile; trade association GSMA; and industry analyst firms Signals Research Group and Juniper Research to gain deep insight into the current VoLTE, RCS, WebRTC and VoWi-Fi markets. The report, entitled "Tapping RCS, WebRTC, VoLTE and VoWi-Fi to improve service, battle OTTs" contains vital takeaways including what services these technologies can support, how mobile operators view the benefit and roll out of these services and challenges facing the industry in terms of taking advantage of these new technologies.
Download this report to learn:
1) What roles VoLTE, VoWi-Fi, RCS and WebRTC have in mobile operator plans?
2) How does the roll out of VoLTE and VoWi-Fi impact plans for RCS and WebRTC?
3) How will RCS, WebRTC, VoLTE and VoWi-Fi allow mobile operators to battle OTT players?
Watch the complimentary editorial webinar featuring:
● Dan Meyer, Editor-in-Chief, RCR Wireless News
● Michael Thelander, Founder and President, Signals Research Group
● Kobus Smit, Head of Voice & Messaging, Deutsche Telekom
● Aashu Virmani, VP of Products and Go To Market for Digital Services, Comverse
"While no one expects the traditional telecom operator to fully displace OTT competitors, the tools being put in place around VoLTE, RCS, WebRTC and VoWi-Fi look to be sufficient to at least allow those operators to provide compelling alternatives to their customers," Meyer explained. "It's just a matter of how quickly and thoroughly those tools are used by mobile operators as they look to retain customers and generate revenues."
Click here to download the report.
About RCR Wireless News
Since 1982, RCR Wireless News has been providing wireless and mobile industry news, insights, and analysis to industry and enterprise professionals, decision makers, policy makers, analysts and investors. Our mission is to connect, globally and locally, mobile technology professionals and companies online, in person, and now on video. Our dedication to editorial excellence coupled with one of the industry's most comprehensive industry databases and digital networks leads readers and advertisers to consistently choose RCR Wireless News over other industry publications. http://www.rcrwireless.com