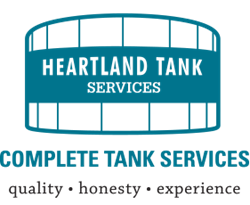 Heartland Tank Companies responded by developing a 500,000 gallon insulated tank with a heating system.
Englewood, CO (PRWEB) July 21, 2015
Provider of aboveground liquid fertilizer tanks and services, Heartland Tank Companies, was featured in the latest issue of CropLife, one of the leading agricultural publications in the country. The magazine profiled the company's latest product: a specialized heated, insulated storage tank that can store liquid fertilizer through frigid winter temperatures while keeping the product at warmer temperatures to prevent salting out. This new product was born out of fertilizer delivery issues experienced in 2014.
Many fertilizer wholesalers and retailers felt the strain of the rail transportation system in 2014 when weather and shipping oil out of North Dakota overwhelmed the railroad infrastructure. The shortage of available railcars impacted a wide variety of industries, including wholesalers and retailers of liquid fertilizer. Experiencing extreme delays in shipments of liquid fertilizers, large aboveground storage tank owners were forced to wait and hope their shipment arrived in time for the spring fertilizer season.
As a result, one liquid fertilizer wholesaler, The Arthur Companies, reached out to Heartland Tank Companies, a steel tank manufacturer, for help. The Arthur Companies wanted to store liquid fertilizer through the winter to ensure they had supplies on-hand for the spring season without having to worry about any issues with rail transportation. The issue with this plan is that The Arthur Companies stores ammonium thiosulfate that salts out if the product temperature falls below 30 degrees. This is a difficult feat in the sub-zero winter temperatures of North Dakota.
Heartland Tank Companies responded by developing a 500,000 gallon insulated tank with a heating system. To accommodate the ammonium thiosulfate fertilizer and minimize needed energy, the 500,000 gallon tank is fitted with four-inch insulation panels. Heat is maintained in the tank by an external electric heating system that is connected to automation software that tracks the product temperature. The heating system is only engaged when the internal product temperature reaches a minimum mark. Every part of the tank, including the pipes and the rail unloading line, is insulated so that there is no opportunity for the product to go below the minimum temperature.
This system was proved out last winter where the tank was able to keep the liquid fertilizer product above 40 degrees despite the frigid outside winter temperatures of Harvey, North Dakota that dipped below -20ºF.
Genevieve Bruce, the Marketing and Legal Analyst at Heartland Tank Services, Inc., said her company recognized the problems the lack of transportation brought to fertilizer distributors, and wanted to develop a tank that could store fertilizer as the transportation issues are hammered out.
The company wanted "to be able to help solve this very significant and timely problem," Bruce said.
About Heartland Tank Companies
Heartland Tank, LLC and Heartland Tank Services, Inc. are separate companies that were simultaneously formed to address the need for alternative methods in quality design and fabrication of API 650 tanks in the agricultural industry as well as alternatives in secondary containment and the ever-increasing need for API-certified tank inspectors. Today, Heartland Tank Companies work together to provide a wide range of above ground storage tank solutions. Their services include field-erected API 650 tank construction, tank repair and modification, internal PVC tank liners, API 653 tank inspections, and more. To learn more, visit heartlandtankcompanies.com