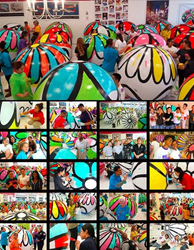 SAVE THE DATE! 24-HOUR PAINT-A-THON JULY 25, 2015
Los Angeles, CA (PRWEB) July 23, 2015
Who: Anyone—Individuals, Families, Friends, Groups
What: For 24 hours straight, the Portraits of Hope studio in Playa Vista will host a Paint-A-Thon, completely free to the public, in hopes of putting a real dent in the largest civic art exhibition Los Angeles has ever seen. The spheres painted from this event will be used to fill the lake at MacArthur Park later this summer. Have fun while also making a difference in the local community.
Where: Playa Vista (near Marina del Rey) 12901 W. Jefferson Blvd. Los Angeles, CA 90066
When: Begins at 9 a.m., Saturday, July 25 and ends at 9 a.m., Sunday, July 26
RSVP: To attend, please register via Eventbrite or email poh(at)portraitsofhope(dot)org.
For press and media inquires, please contact Kelley Weaver of Melrose PR at Kelley(at)melrosepr(dot)com or by calling 310-260-7901.