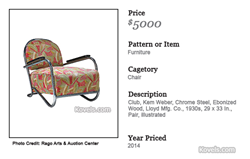 (PRWEB) July 22, 2015
The antiques experts at Kovels.com have added a free and fun new feature to their website –"Editor's Picks of the Day." Visitors to Kovels.com can enjoy five antiques and collectibles that change each day, chosen from the thousands pictured in Kovels' popular price books.
Each antique and collectible "pick of the day" listing includes a color picture, a brief description and year of sale, as well as, for guests who register for free "Basic" website access, its selling price. Find the iconic, the valuable, the inexpensive, the unusual and the whimsical – all in an easy-to-read format.
See what's catching the eye of the Kovels' team as they peruse flea markets, auctions and antiques shops to report on antiques and collectibles prices and trends that help readers buy, collect and sell with confidence. Go to Kovels.com, click on "Resources," then on "Antiques Picks of the Day."
Terry Kovel is America's foremost authority on antiques and collectibles. She is the well-known columnist and author of more than 100 books on antiques and collecting. With her daughter, Kim Kovel, she co-authors the best-selling annual "Kovels' Antiques and Collectibles Price Guide." The 2015 edition is now available in bookstores and online. They will discuss antiques and collectibles topics with accredited media. Photographs are available. Contact pr(at)kovels(dot)com.
About Kovels.com
Kovels.com, created by Terry Kovel and Kim Kovel, provides collectors and researchers with up-to-date and accurate information on antiques and collectibles. The company was founded in 1953 by Terry Kovel and her late husband, Ralph. Since then, Kovels' Antiques has written some of America's most popular books and articles about antiques, including the best-selling "Kovels' Antiques and Collectibles Price Guide," now in its 47th edition. The website, Kovels.com, online since 1998, offers more than 1 million free prices, and includes a free weekly email, "Kovels Komments." It gives readers a bird's-eye view of the market through the latest news, auction reports, a Marks Dictionary, readers' questions and answers and much more.
Contact Information:
Liz Lillis
216.752.2252
Pr(at)kovels(dot)com