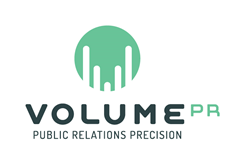 "We relied heavily on the Volume PR team's knowledge and expertise in promoting the tournament in the local market, and they delivered above and beyond our expectations. -- Vince Pellegrino, Senior Vice President of the Western Golf Association
Denver, CO (PRWEB) July 22, 2015
The outcomes from Volume Public Relations promotion of the PGA TOUR's 2014 return to Denver have been recognized with two prestigious communication awards, a Platinum MarCom Award and Silver Mercury Award. Volume was chosen for the awards in recognition of the goal shattering outcomes produced from their promotion of the 2014 BMW Championship, including doubling opening week ticket sales and quadrupling event and brand media exposure.
Volume Public Relations is a Colorado-based communications firm that developed a proprietary system for increasing the outcomes of marketing and PR initiatives by anchoring the strategies, messages and promotions it employs for its clients in human and cognitive sciences. Volume's promotion of the 2014 BMW Championship in Denver, Colorado at Cherry Hills Country Club broke nearly every historic record for the event and helped the organization's non-profit, The Evans Scholars Foundation, raise a record $3.5 million dollars. All successes generated by Volume PR during championship week are documented in a highlight reel, the complete video is available to watch here: http://bit.ly/1GKYWC9.
"At its core, marketing communication is not only business-to-consumer (B2C) or business-to-business (B2B), it is a human in the form of a brand connecting with a human in the form of a customer or prospect," said Elizabeth Edwards, founder and president of Volume Public Relations. "The magic of human-to-human based communication (H2H) happens when your brands messages and promotions leverage the psychological laws and emotions that govern human behavior, rather than work against them as many marketing and PR strategies are doing every day, unintentionally guaranteeing their ineffectiveness rather than their success."
"On behalf of everyone who worked on the 2014 BMW Championship, I would like to extend a sincere congratulations to Elizabeth Edwards and the Volume PR team on a job well done," said George Solich, 2014 BMW Championship General Chairman and President and CEO of FourPoint Energy, LLC. "Volume PR's ability to go above and beyond in every aspect of the 2014 BMW Championship's campaign greatly contributed to the many successes the tournament experienced, from raising a record amount for the Evans Scholars Foundation to winning three PGA TOUR awards, including Tournament of the Year. Both the Platinum MarCom Award and Silver Mercury Award represent excellence, which perfectly describes the work that Volume PR did for the 2014 BMW Championship."
"We brought our tournament to Denver for the first time ever in 2014, and the Denver and Colorado golf community supported us in historic fashion," noted Vince Pellegrino, Senior Vice President of the Western Golf Association. "We relied heavily on the Volume PR team's knowledge and expertise in promoting the tournament in the local market, and they delivered above and beyond our expectations. Volume PR and their strategic marketing plan for the BMW Championship at Cherry Hills Country Club set the stage for a well-publicized and very well-attended 2014 BMW Championship. These awards recognize the level of professionalism Volume PR demonstrated in bringing us outstanding results."
The MarCom Awards is an international creative competition that honors outstanding achievements by marketing and communication professionals, with the organization's Platinum Award being reserved for only the most outstanding entries in the competition.
The Mercury Awards, hosted by MerComm, Inc., an international award organization dedicated to defining the standards of excellence in the communications fields, and attracts entries from over 60 countries. This award specifically honors innovation, originality and smart thinking in the public relations, public affairs, and corporate communications industry.
About Volume Public Relations
Volume Public Relations is an award-winning strategic communications firm known for accelerating marketing and PR outcomes with scientific precision.
The senior-led Volume PR team creates more awareness, more customers and more results for its client by designing messages, strategies, brands and promotions that are rooted in the principles of human and cognitive science. This practice has created an unmatched reputation for producing precision campaigns and outcomes over the last 14 years.
Already have a PR agency? Volume PR can seamlessly work alongside existing agency partners to supplement their efforts with marketing science.
Manage all of your marketing in-house? Volume PR has plans to support the execution of marketing and public relations programs by corporate communication teams.
Looking for a tenacious partner to produce continuous marketing and public relations results? Volume PR offers a host of engagement levels for partial or complete outsourced PR and marketing solutions. Come get to know us at http://www.VolumePR.com.
###