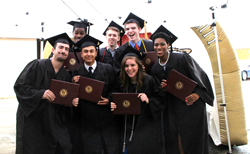 I really feel that attention to student needs is at the heart of our mission. - Mablene Krueger, President of Robert Morris University Illinois
Chicago, Illinois (PRWEB) July 21, 2015
Robert Morris University Illinois has been ranked number one in the list of "The 40 Colleges That Add the Most Value" in the August, 2015 issue of Money Magazine which arrived on newsstands this week. RMU also placed 44th nationally among Money's Best Colleges, a listing of over 700 colleges, topped by Stanford University.
RMU attained the position in the top spot partly because of is its track record and high graduation rate: 80% of bachelor's degree seeking students complete their degrees in four years or less. The national average is 59% over six years. "Robert Morris University emphasizes experienced-based education," said RMU President Mablene Krueger. "Such experiences include everything from required internships, team class projects, relationships with faculty and other students, to hands-on classroom or lab experiences or our Study Abroad program."
As a career-focused university, Robert Morris pays close attention to the demands of the ever-changing job market and regularly assesses curricula. Faculty with professional experience help ensure that classes are current and relevant. "I really feel that attention to student needs is at the heart of our mission," continued President Krueger. "Our unique advising program is an example of how we put a distinct student progress philosophy into action. This program, along with smaller class sizes and the opportunity for students to become involved in extra-curricular activities and service programs outside of the classroom all contribute to that high completion rate."
In addition to educational quality, Money Magazine considered affordability and alumni earnings in establishing its rankings. According to the magazine, it also included "a value added grade that rated each college in light of the economic and academic background of its students."
The University also promotes student involvement at many different levels. "An involved student is one who will graduate," added President Krueger. "Many students hold part-time jobs, play on any of our more than 50 athletic teams or participate in student clubs or service organizations, in addition to carrying a full class load in a major that leads directly to a career. Such involvement encourages team building and time management skills, as well as exposing students to people and experiences outside of their majors."
RMU's main campus is located in downtown Chicago, in the city's "educational corridor," an area with several colleges and universities. For further information, contact the RMU Admissions Office at 312-935-5960 or visit the website at http://www.robertmorris.edu
Robert Morris University Illinois is a not-for-profit, baccalaureate and graduate degree granting institution, accredited by the Higher Learning Commission of the North Central Association of Colleges and Schools.* The University serves over 4500 students interested in getting an education in business, graphic arts, nursing and health care, culinary and computer studies at its main campus in Chicago, as well as at locations in Arlington Heights, DuPage, Elgin, Orland Park, Bensenville, Springfield, Peoria, Schaumburg and Lake County. In all communications, please refer to the university by its full name, Robert Morris University Illinois. *Higher Learning Commission of the North Central Association of Colleges and Schools, 30 N. LaSalle Street, Chicago, IL 60602, 312-263-0456.