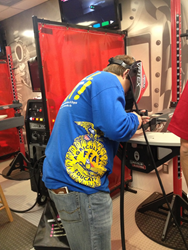 MADISON HEIGHTS, MI (PRWEB) July 22, 2015
WHO: The Detroit Institute of Arts, Les Paul Foundation, and American Welding Society will all be present at Maker Faire Detroit with interactive mobile environments. Visitors won't want to miss the chance to experience these three exhibits in one location. All of the exhibits were developed as well as staffed and operated by Madison Heights based company MRA experiential tours & equipment.
WHAT: Three different mobile experiences will be open to the public during Maker Faire Detroit. The exhibits all utilize highly specialized 53' semi-trailers and are designed to educate visitors on the intricacies of the creative thought process, the legacy and innovations of Les Paul, and skilled trades:
DIA Away: Think Like An Artist:
Visitors will discover how artists think as well explore new ways to use their own creative thinking skills. Through digital and tactile interactives, guests will receive a deeper understanding of the creative process and try their hand at creative thinking activities, ultimately discovering how creativity impacts problem solving in their day-to-day lives.
Les Paul's Big Sound Experience:
Les Paul's Big Sound Experience introduces visitors to the story of Les Paul and his contributions to the music industry as a musician and inventor. The exhibit features state-of-the-art technologies and interactive experiences including mixing boards, listening stations and an interactive guide to the evolution of the solid body electric guitar. Visitors will get a personalized experience by creating their own sounds while learning about Les' ground-breaking recording techniques.
American Welding Society's Careers in Welding:
Finally, American Welding Society's Careers in Welding allows visitors to try their hand at virtual welding. Gaming stations and interactive kiosks give visitors a realistic welding experience. The exhibit was created to promote jobs in the welding industry to young adults.
WHEN: July 25th & 26th from 10am – 5pm
WHERE: The Henry Ford, 20900 Oakwood, Dearborn, MI 48124
MEDIA CONTACT: For interviews with the staff on any of the tours, or MRA representatives, please contact Elizabeth Hoelscher at ehoelscher(at)goMRA(dot)com
BACKGROUND: MRA experiential tours & equipment is an industry leader in mobile exhibit and event marketing. It specializes in custom design, vehicle sales and leasing, as well as tour equipment and logistics-management services for the experiential marketing and exhibiting needs of museums and many Fortune 1000 firms, working either directly or in association with leading agencies and exhibit builders worldwide. Visit http://www.goMRA.com and http://www.youtube/MRAmobiletours.
###