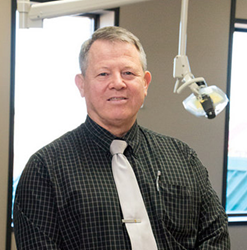 Smithers, BC, CA (PRWEB) July 21, 2015
Patients who have considered receiving dental implants in Smithers, BC, CA, to replace their missing teeth, now have the option of receiving Strickland Facelift Dentures™ from Dr. Dan Kinkela. This preferred denture option utilizes a unique fitting technique that prevents the lips from sagging inward and provides the mouth with enough support to maintain its original structure.
Dr. Kinkela is proud to offer Strickland Facelift Dentures™ as an alternative treatment option for patients with missing teeth. These supportive dentures can be utilized on their own or they can be combined with dental implants in Smithers, BC, CA, for even more durability and strength. Patients who opt to receive Strickland Facelift Dentures™ over regular dentures, often experience an improved appearance and a more youthful look due to the design and unique fit of the Strickland denture system. Unlike traditional dentures that are simply placed on top of the gums, the Strickland system is actually made to fit over part of the muscle structure in the mouth as well. This unique fit assists the mouth in maintaining its shape and prevents the lips from sagging inward, due to insufficient support.
Many individuals with lost teeth from disease, injury, or old age do not understand that the jawbone actually begins to deteriorate over time once it is no longer stimulated by the roots of the lost teeth. As the bone deteriorates, it can begin to change the shape of the face and can cause regular dentures to no longer fit properly. The Strickland System is designed to apply an evenly-distributed amount of pressure to the jawbone in order to discourage deterioration and ensure that the face maintains its original shape as much as possible. The end result is a more youthful smile that looks and feels natural.
Patients who have been thinking about getting dental implants in Smithers, BC, CA, for their missing teeth are invited to call Dr. Kinkela's office and schedule a consultation. Dr. Kinkela will be happy to explain the various benefits patients can experience if they receive Strickland Facelift Dentures™ in their implant-supported form or without implants.
About the Practice
Tyhee Dental is a general practice offering personalized dental care in Smithers, BC, CA. Dr. Dan Kinkela earned his Dental Degree in Washington State, before relocating to British Columbia. He and his team take a comprehensive approach to dentistry, meaning they focus on the body as a whole to ensure total mouth and body health. Dr. Kinkela offers general and cosmetic dentistry procedures, dental implants, Strickland Facelift Dentures™, sedation treatment and other services. To learn more about the offerings at Tyhee Dental please visit their website at http://www.tyheedental.ca or call (250) 483-2840.
Disclaimer: The Strickland Facelift Dentures™ services are in no way related to Dr. Sam Muslin's exclusive Face Lift Dentistry® treatment.