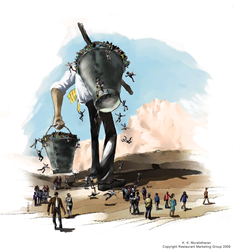 Overall, the industry is flat but there is a considerable amount of brand switch.
Denver, CO (PRWEB) July 23, 2015
ZenMango® has released the 2015 Leaky Bucket® study which measures why customers won't return to a brand. That is, 1 in every 4 customers stated that they are less than 50% sure of returning to a restaurant after their experience.
Top Headlines from the 2015 Leaky Bucket Study:

The restaurant category is showing signs of getting out of the price wars: The top 2 reasons for not coming back are 'price value' (28%) and 'food' (26%). The combination of these two indicate that food that has the most influence on the 'price value' perception of brands.
Healthier and better food is in: The trend towards healthier food is evident where the leak for QSR jumped from 18% to an all-time high of 24%, citing 'food' (37%) as the main reason for not wanting to go back.
Food wins over just speed: Casual Faster™ and QSR have significantly higher leaks compared with 2011. ZenMango has identified that there are significant differences between Fast Casual brands (Chipotle, Qdoba where the food is prepared ahead of a guest's visit and is assembled based on the guest's personal choice, and the food is better compared to Fast Food) and Casual Faster brands (brands like Pei Wei, Noodles & Co. where the food is made for the guest after they order at the counter, and is faster compared to casual dining). This difference is very important to note as Fast Casual brands base their $/sq feet based on the Fast Food model but with better food. Casual Faster brands on the other hand base their $/sq feet based on the Casual Dining food model.
Casual Dining has reduced the gap with Casual Faster brands: Casual Dining saw the largest positive swing in leak dropping from 26% in 2011 to 22% in 2015. This along with the increase of leak for the Casual Faster category, shows that guests are considering sitting down to enjoy "more service" instead of counter ordering at Casual Faster.
Overall, the industry is flat but there is a considerable amount of brand switch: Compared to 2011 the overall industry leak has not significantly increased. However, a look at the categories reveals that Casual Faster and QSR have significantly higher leaks compared to 2011. This shows signs of "Food" becoming a primary driver, more than just price or getting faster food access. The importance of food is resulting in guests giving more scrutiny to what is in their food at QSR restaurants. ZenMango will release its '2015 Food Actually' study in August, which will show in detail the consumer trend in "information about food."
About Leaky Bucket®:
ZenMango's proprietary Leaky Bucket® study began in 2008 with the vision of pinpointing specific, actionable steps brands can take to reduce their leak. The results have been published in various news publications every year until 2011. The Leaky Bucket's focus since 2011 has been on custom studies developed for individual brands. With all the changes in the industry and the introduction of many new brands, it is time to take a look at how the industry has progressed in the past 4 years. The 2015 study was conducted among 1013 national adults and focuses on restaurant categories rather than individual brands. Leaky Bucket® is a registered trademark of ZenMango®
About ZenMango®:
ZenMango® is a premium marketing and branding consulting team with over 20 years of proven expertise in marketing and operations. ZenMango® offers actionable insights in marketing, marketing research, and strategic planning to guest experience driven industries. Prior to founding ZenMango®, Founder & CEO Arjun Sen served as the Senior Vice President of Marketing and Operations Services for Papa John's International Worldwide and as Senior Vice President of Marketing for Jillian's Entertainment. Arjun's previous experience also includes positions at The University of Colorado, Einstein Bros. Bagels, Boston Market and Pizza Hut. For additional information visit http://www.zenmango.com