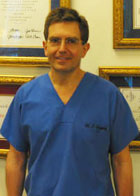 Bethlehem, PA (PRWEB) July 21, 2015
Dr. Joseph Gaspari now uses the LANAP® protocol, which is a laser gum surgery procedure, to treat gum disease in Bethlehem, PA. This treatment can help patients avoid various potential complications associated with periodontal disease, from oral health issues to systemic illnesses. The procedure also poses a minimal risk of bleeding, pain and other immediate side effects that might occur with more traditional periodontal disease treatments.
When periodontal disease is left untreated, patients may be at risk for various health problems. Periodontal disease can cause damage to teeth and the bone that helps secure them in place. If this damage becomes severe enough, tooth loss and bone density deterioration can occur. Additionally, research has established correlations between periodontal disease and a number of serious health conditions, including stroke, pancreatic cancer, heart disease, memory loss and diabetes. Fortunately, people who undergo laser gum surgery early may be able to avoid these health issues.
The LANAP® protocol gives Dr. Gaspari a less invasive way to treat periodontal disease. During this procedure, Dr. Gaspari uses the PerioLase® MVP-7™, a laser that only affects periodontal disease, to remove unhealthy gum tissue and bacteria. After cleaning away plaque deposits below the gumline, Dr. Gaspari applies the laser a second time. This causes a protective blood clot to form at the gum pockets, and it also promotes regeneration in the bone that anchors the teeth in place. This helps improve the likelihood that damaged teeth will form more secure attachments to the bone, rather than being lost. After the laser gum surgery is complete, Dr. Gaspari does not have to place any sutures. Patients usually can return to regular activities as early as the day after receiving treatment for gum disease in Bethlehem, PA.
Given the potential complications that periodontal disease can cause, it is important for people to stay alert to early warning signs. Various changes in gum health, including swelling, bleeding, recession and pain, can indicate an infection. Some people also notice persistent bad breath or feelings that their teeth are becoming looser. People who notice these symptoms should protect their health by seeking treatment promptly. People who want to schedule consultations about treatment for gum disease in Bethlehem, PA, are encouraged to visit Dr. Gaspari's website or call his office directly.
About the Practice
Gaspari Family Dental Care is a general practice offering personalized care for patients in Bethlehem, PA. Dr. Joseph Gaspari and his team are dedicated to providing comprehensive dental care through the use of innovative and modern techniques. They other services such as laser gum surgery, Chao Pinhole® Surgical Technique, sedation dentistry and dental implants. Dr. Gaspari is a Fellow with the International Congress of Oral Implantology and with the Misch International Implant Institute. He is also a member of the American Academy of Periodontology and the American Society for the Advancement of Aesthetics in Dentistry. To learn more about the services offered at Gaspari Family Dental Care, please visit their website, http://www.drgaspari.com or call (484) 552-2081 to schedule an appointment.