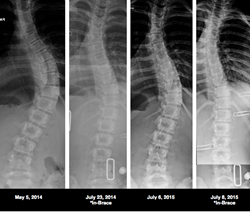 The Gensingen Brace® and the new Schroth scoliosis-exercise immersion training protocols are the most efficient and effective conservative management tools. There is now hope for adolescents to improve scoliosis, significantly, without surgery.
Boston, MA (PRWEB) July 28, 2015
'AK', an adolescent from Ontario, Canada is a scoliosis success story. 'A' had just had her twelfth birthday in April 2014 when she was diagnosed with scoliosis. A chest x-ray for pneumonia revealed a Cobb angle of 49º – a level at which surgeons in the U.S. and Canada usually inform parents and adolescents that spinal fusion surgery for scoliosis is required. Not wanting surgery for their daughter, the family traveled to Scoliosis 3DC, near Boston, for their intensive Schroth Method scoliosis treatment program and innovative German brace. The program can be learned and mastered from start to finish, within six days. The brace can be measured, designed, manufactured and fit in just four days.
Just prior to her arrival at Scoliosis 3DC, 'A' had an x-ray to ensure optimal brace design. Her second x-ray showed a 13º progression in a mere twenty-six days, bringing her Cobb angle measurement to 62º. Cobb angle is the assessment doctors use to determine scoliosis severity. (A greater than 10º progression of Cobb angle in less than one month is significant). 'A's progression didn't deter Dr. Moramarco, or brace creator Dr. Hans-Rudolf Weiss, because unlike other braces for scoliosis, the Gensingen Brace® effectively addresses severe scoliosis. This means surgery can be unnecessary except in the rarest of cases.
'A' is achieving results spinal surgeons claim to be impossible – reducing scoliosis without surgery. To date, her thoracic Cobb angle has reduced from 62º to 38º out-of-brace. Recently fit for her second brace, the x-rays and photos illustrate her impressive results to date. Since 'A' is not yet fully grown, she could potentially reduce her Cobb angle further. This possibility is based on her current improvement of a 58% in-brace correction when compared with her recent out-of-brace x-ray. 'A' deserves credit for her commitment to her brace and to her scoliosis-exercise program.
The Gensingen Brace® is an asymmetric brace designed according to an individual's curve pattern. Dr. Weiss is third-generation Schroth family of Germany. They have been a family at the forefront of conservative scoliosis treatment methods since the1920s. Dr. Weiss has dedicated his life to improving scoliosis treatment for children and adults, with a focus on bracing for more than a quarter century. Bracing is the primary conservative treatment option for adolescents with idiopathic scoliosis classified as moderate (25º - 49º Cobb angle).
The cutting-edge Gensingen Brace® brace provides older children and teens with the opportunity to improve postural appearance and potentially enable a reduction of Cobb angle. Adolescents who wear it according to prescribed wear times avoid surgery since more than 90% stabilize or reduce curvature.
Dr. Marc Moramarco introduced the Gensingen Brace® in North America in 2013. Currently, he is the exclusive North American provider of this brace which is improving life for many kids with moderate and severe scoliosis – not just 'A'. Each brace is lightweight, closes in front for easier wearability and all are designed by Dr. Weiss according to an individual's curve-pattern. The brace is used internationally and was specifically designed to be compatible with the recent Schroth method updates. Dr. Moramarco finds that kids wearing it who learn the Schroth Best Practice® program are having an especially positive outcome in terms of improved posture and Cobb angle measurements.
The brace differs from traditional scoliosis braces in that it features openings at the spinal concavities. These allow for Schroth 'rotational breathing' to derotate the spinal vertebrae and rib cage. This aids in postural and Cobb angle improvement (optimally the brace should be fit prior to the completion of growth). Aiming for spinal de-rotation makes this brace unique among scoliosis braces. Most use spinal compression in their attempt to halt progression – until now, the acceptable standard of brace treatment.
Another positive attribute of the Gensingen Brace® are the consistently exceptional in-brace corrections. These are accomplished due to its asymmetric design, emphasis on corrective breathing and standardization via CAD/CAM which allows for the most accurate fit for optimal improvement.