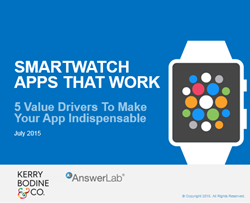 San Francisco (PRWEB) July 23, 2015
Smartwatches are supposed to make us smarter, faster, more connected and healthier. But new research from AnswerLab and Kerry Bodine & Co. found that the smartwatch experience doesn't yet live up to the hype. Is there anything that can keep smartwatches from going the way of Google Glass?
After 30 hours of consumer interviews and observations with smartwatch owners and prospective buyers, the researchers came to one conclusion: killer apps.
In their report titled "Smartwatch Apps That Work: 5 Value Drivers To Make Your App Indispensable," the research partners reveal that consumers using the Apple Watch, Samsung Galaxy Gear Live, Moto 360 and Pebble crave greater emotional and functional connection with their watches. They want fewer irrelevant pings; more pointed notifications culled from exercise, shopping, bill payment and travel habits; and the ability to complete meaningful tasks right from their watches.
One prospective smartwatch buyer remarked: "If you're tracking my heart rate, I don't just want the number. What should I do about it?"
These findings come as brands and app developers are racing into this new marketplace. As of last week, there were more than 5,744 smartwatch apps, according to the site WatchAware.com. Even so, the smartwatch has been called "half-app'd" with slow load times, error messages and too many tethers to smartphones and other devices.
Kerry Bodine, founder of Kerry Bodine & Co., said of their findings, "Many participants who'd owned their watches for weeks or months essentially used them as notification vehicles to alert them when something was worth attention on another device. Sadly, one Moto 360 owner we talked to most frequently used her smartwatch as a timer."
So, how can the smartwatch go from luxury item to Indispensable appendage? Based on their research, Bodine and AnswerLab CEO Amy Buckner Chowdhry offer this advice to brands:

Get intimate with your users: Tap into preferences, past behaviors and current context to help users make connections. For example, if your analytical models reveal that a user sleeps poorly on nights when her step count falls below 5,000, tell her that.
Curate ruthlessly: Nix content that users can't consume in a few seconds. Shorten menus, lists and buttons. For example, Uber allows the user to summon a car and see wait times. That's it. Dark Sky accesses the user's location to provide the next hour's rain forecast, but not the extended forecast.
Enable bite-size interactions: Empower users to complete meaningful tasks in a flash. For example, with one tap of Chipotle's "burrito button," users can have "the usual" ready for pickup at their favorite location.
Leverage the device ecosystem: Like it or not, the smartwatch remains tethered to the smartphone, computer and other devices. So app designers must know when, and for which tasks, it's better to send people to their other devices. For example, a maps app would allow a user to type a desired address on her phone, and then see the turn-by-turn directions displayed on her watch.
Show utility now: Create a home screen that clearly shows when, where or how the app will kick into gear. Show your app in action through ads and other marketing communications.
"Think carefully about your specific app use," said AnswerLab CEO Chowdhry, who has been named one of Fortune's 10 Most Promising Women Entrepreneurs. "Throwing up content just for the sake of 'being there' is detrimental to your brand."
Bodine added: "Without clear leaders stepping up to fill the app void, it's a perfect time for brands to do some trial-and-error with these five value drivers."
More good timing for brands: Apple recently unveiled upcoming software updates that give third-party app developers the ability to write apps that run directly on the Apple Watch itself. On the retail side, Apple will begin selling its watch in more company retail stores this month in addition to its current online sales. Pebble announced that its Kickstarter-funded Time smartwatch has headed to mass production. And Swatch's smartwatch is rumored to hit the shelves this August.
***
About AnswerLab: CEO Amy Buckner Chowdhry founded AnswerLab a decade ago to help the world's leading brands build better digital products. For clients from Amazon to Zynga, AnswerLab delivers the insights and advice that enable brands to dramatically improve marketing effectiveness and product performance. For three consecutive years, AnswerLab earned a spot on Fortune's List of Top 25 Companies to Work For. And for six consecutive years AnswerLab has been on the Inc. 500/5000 and the San Francisco Business Times Top 100 fastest growing companies. Chowdhry writes a column for Inc.com and has been named one of Fortune's 10 Most Promising Women Entrepreneurs. AnswerLab.com
About Kerry Bodine & Co: Kerry Bodine & Co. is a customer experience consultancy with a passion for human-centered design. Through keynote speeches, workshops and coaching, the company inspires business leaders and drives customer-centric business improvements. Kerry Bodine is co-author of the book "Outside In: The Power of Putting Customers at the Center of Your Business." Her ideas, analysis and opinions have appeared in Harvard Business Review, The Wall Street Journal, Fast Company, Forbes, USA Today and Advertising Age. KerryBodine.com