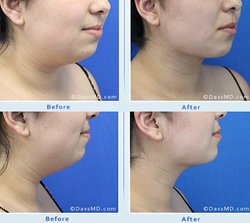 Women and men look more attractive and appear years younger when the neck and jawline are returned to youthful contours.
Beverly Hills, CA (PRWEB) July 22, 2015
Dr. Dennis Dass says a sagging neck or double chin can be treated with a minimally invasive neck lift that goes beyond conventional liposuction to restore youthful neck contours. "This technique can improve the appearance of a double chin and dramatically improve the jaw line," says Dr. Dass, who is a board certified plastic surgeon. "The procedure is performed with a very small incision that hides very well and is nearly imperceptible, creating a very natural result. Before and after photos show the dramatic results that can be achieved by contouring the neck and chin areas."
"Best of all, downtime is cut to a minimum," says Dr. Dass. "Sagging skin and the loss of youthful contours can make a person look older than he or she feels. Previously, the only way to lift and tighten the neck adequately was through more invasive surgery such as a facelift." The procedure is performed with the Smart Lipo system which utilizes a thin fiber-optic laser to tighten skin safely and effectively, done with the patient awake.
Dr. Dass begins by making a single small incision about 1mm in width, or about the thickness of the tip of a ballpoint pen After a local anesthetic is introduced to numb the areas, Smart Lipo is used to remove small amounts of fat. Then a thin fiber optic wire is inserted through the small entry point and a beam of light emitted from the laser is directed to the targeted areas. Controlled laser energy heats the dermis (the deeper layer of the skin) while precisely melting fat. "This promotes new collagen growth while providing noticeable skin tightening," says Dr. Dass.
"Just one treatment session is required, with minimal bruising, discomfort or downtime," says Dr. Dass. "The skin will continue to tighten over the next few months. Although injections to reduce fat under the chin such as Kybella™ have received media coverage, these treatments must be repeated several times and the results will not be as dramatic."
For more information on treatment for a sagging neck or other plastic surgery procedures contact the office of Dr. Dennis Dass in Beverly Hills at 310-878-4800 and visit http://www.DassMD.com Dr. Dass specializes in face and body procedures including the Brazilian Butt Lift, eyelid rejuvenation, breast augmentation and Gummy Bear implants.