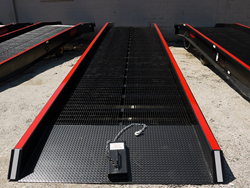 Twinsburg, OH (PRWEB) July 23, 2015
The recycling industry in the US is thriving. A report published in March by IBIS World indicates that the recycling facilities industry, which sells recycled commodities and finished goods to consumers, has seen revenue growth at an estimated annual average rate of 3.3% over the last 5 years.
The industry, which currently employs roughly 20,000 people and has annual estimated revenue of $6 billion in the US, is expected to continue on its current growth trend. Increased consumer demand for goods made from recycled materials combined with higher levels of government regulation relating to the use of recycled materials in manufacturing processes are expected to boost the overall market for recycled goods.
To further corroborate these statistics, Copperloy has seen a marked increase in demand for yard ramps and loading dock equipment for use in recycling centers. To date, the demand has been for ramps with a capacity of 16,000 to 30,000 pounds.
With a wide selection of American-made heavy-duty aluminum or steel yard ramps that can safely handle loads up to 60,000 pounds, the demand from the recycling industry is expected to increase over the coming months and years.
More Facts About Recycling:

Recycling is a $500 billion industry worldwide
The EPA estimates that 75% of the waste created in America is recyclable
Recycling a single aluminum can conserves enough energy to power an iPod for the length of a full album
60% of the recyclable waste produced in the US is processed here. The remainder is exported.
More information is available at out website, http://www.copperloy.com, or contact our customer service department at 1-800-321-4968 for more information.