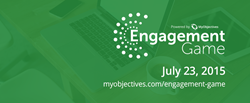 Gamification is a game-changer, no different than Uber has changed the taxi industry forever.
Lacey, WA (PRWEB) July 22, 2015
Time is running out to register for the Engagement Game – a free webcast covering gamification, leadership, OKRs and the Balanced Scorecard – Alliance Enterprises (Alliance) today announced. Registration is available at http://www.engagementgame.com until the webcast begins at 9 am PDT on Thursday, July 23.
"Gamification is a game-changer, no different than Uber has changed the taxi industry forever," said Brett Knowles, University Moderator of ManagementbyGaming.com and pm2 Consulting lead, a long-time thought-leader in the performance management space. Mr. Knowles will serve as the webcast host on Thursday.
"By linking existing best-practices in strategy, performance management and performance measurement with gaming we are changing the dynamics, agility and results of organizations. I look forward to talking to experts in each of these areas to learn how these best practices work and deliver every single time," said Knowles.
Knowles will navigate the three-hour discussion, which features noted authors, speakers and experts from the gaming, performance management and business consulting arenas. Chris Pieper, Alliance Enterprises CEO, will co-host the webcast, providing insight into how gamification enhances employee engagement in the workplace.
The Engagement Game webcast will feature:
Keynote speaker Jane McGonigal, New York Times bestselling author and a leading speaker on gaming in the engagement economy, will focus on "Gaming: The Future of Management."
Mario Herger, CEO and founder of Enterprise Gamification Consultancy, will discuss "Why gamification works, and how it can be applied in a work environment."
Paul Niven, founder of The Senalosa Group, will present "Adding gaming and imagery to the Balanced Scorecard to engrain the methodology in organizational culture."
Ben Lamorte, a Principal Analyst with Eckerson Group, will speak to "Analyzing the current wave in management, OKRs and how gamification improves engagement."
The Engagement Game webcast is the latest Alliance endeavor to marry best practices and modern gaming mechanics. Alliance recently launched MyObjectives, a team-focused Software-as-a-Service (SaaS) solution. Customers can experience the software, with up to two scorecards at no cost. The free trial may be found at http://www.myobjectives.com.
About Alliance Enterprises – Founded in 1981 with a mission to develop and support socially relevant computing solutions, Alliance Enterprises (Alliance) today provides a wide range of technology-based management products for business leaders and innovators. Today, Alliance provides two distinct offerings to customers, Aware and Summit business lines. For more information on how Alliance is shaping the future of work, visit http://www.allianceenterprises.com.