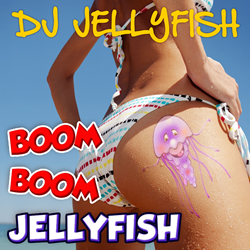 New York, NY (PRWEB) July 22, 2015
The debut single, "Boom Boom Jellyfish," by an up and coming artist known as DJ Jellyfish has been released on Radikal Records. This fun upbeat dance track first caught the prominent Dance label's attention when two videos of the Dance surfaced online. The first video Radikal Records came across was an official dance video that introduces "The Jellyfish Dance." The video shows "The Jellyfish Dance" as a fun simple dance that is reminiscent of past summer dance crazes such as "Macarena," "Cha Cha Slide" and "Gangman Style." Apparently the video also caught the eye of Gummibär, the über-popular animated character and YouTube Superstar who jumped into the action and posted his own funny take on the Jellyfish Dance. The positive reaction to both videos convinced Radikal Records that "Boom Boom Jellyfish" is showing all the signs of becoming a worldwide dance phenomenon.
The song's funky track and a throwback disco groove makes "Boom Boom Jellyfish" a strong contender for summer Hit of 2015. The laidback vocals delivering the message sound inspired by the stylings of Prince or Bruno Mars and will have listeners singing along to the catchy song by the first chorus, making this new dance jam irresistible. As DJ Jellyfish puts it: "When you dance, it's just one world! Fat or skinny, round or tall, everyone loves to shake their boom-boom."
"Boom Boom Jellyfish" is available for purchase on iTunes at: https://itunes.apple.com/album/boom-boom-jellyfish-single/id1013213222. The single is available for streaming on Spotify and Bandcamp.
Watch the official dance video at: https://youtu.be/BWb5JUjkg_c
Watch the Gummibär Dance video at: https://youtu.be/6FYcv5HpqGE
###
About Radikal Records:
Established in 1990, and based just outside of NYC, Radikal Records is one of the United States' leading independent record labels. In business for more than 25 years, they are focused on marketing, promoting, and distributing artists – not only to audiences in the USA, but also on a global basis to partners world-wide. Artists included on their roster over the years include: 2 Unlimited, N-Trance, Zombie Nation, ATB, Yello, Scooter, Schiller, Sinead O'Connor, Ayah Marar, Kristian Nairn and many others. For more information visit: http://www.radikal.com