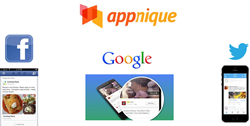 We've been delighting our customers with our targeting and optimization capabilities on Facebook.....excited to announce that we're now offering our audience targeting layer on Twitter and Google
Redmond, WA (PRWEB) July 22, 2015
Appnique, the pioneer in App store text analytics and precise audience targeting for mobile advertisers, announced today that they have added additional media platform partners where their proprietary and patent pending precise targeting capabilities are applied. "We've seen tremendous success and have been delighting our customers with our targeting and optimization capabilities on Facebook. We're excited to announce that we're now offering our audience targeting layer to clients who wish to improve ROI on Twitter and Google" said CEO Jai Jaisimha. "Appnique's proprietary precise interest selection mechanism has proven extremely successful in expanding audience reach and delivering predictable and improved ROI. These capabilities now have expanded applicability through Twitter's Mobile App Promotion Ad targeting and on Google's Search, Display and Youtube channels. As planned, our services are expanding with our announcement today and we're on track for future media platform expansion later this year."
By analyzing 2 million apps each day, combined with deep expertise in app store SEO, Appnique enables more effective, better targeted mobile app install campaigns. Real-time app store data mining provides keywords and interests that are used to create specific and unique target groups. Marketers can then connect and engage with unique audiences that have a known affinity to their app or brand. Beyond mining app store keyword and text data, Appnique is also acquiring brand affinity data by collecting, mining and warehousing related social mentions. The combination of this real-time data acquisition technology, applied to net new audience targeting, enables lower CPI and higher end user engagement, resulting in improved ROI.
"Appnique's unique precise interest targeting and optimization platform has been a key factor in expanding our reach on Facebook, helping us find net new users for our app, while meeting or beating our marketing spend objectives. We are excited about Appnique's new capabilities being available on emerging mobile app install ad platforms and expect that they will substantially advance the state of the art in mobile app user acquisition " said Noah Godfrey, Founder, Checkout 51 (http://www.checkout51.com).
Appnique also appointed Kim Carlson, as VP, Revenue, and Tasha Bishop, VP of Customer Success. Prior to Appnique, Carlson served as CRO for Taptica and as the head of performance sales for InMobi. Bishop has held various executive level roles focused on customer success, notably with Medio and Microsoft. "We've seen rapid expansion of our business in the last three quarters, as leading mobile app install marketers move quickly to gain insight into more precise app discoverability," said CEO Jai Jaisimha. "App Marketers are looking to Appnique to deliver net new audience segments that drive profitable scale and we're being rewarded with increased budgets and client growth. Kim and Tasha join us as key drivers of our strategy and market outreach, and we're excited to welcome them both to the Appnique team."
About Appnique
Appnique offers a unique service that combines unparalleled insight into app discovery and in-depth knowledge of targeting and bid optimization to save you money on your user acquisition spend. By analyzing 2 million apps each day, we gain robust insight into which apps are getting discovered. We use this insight to identify look-a-likes and power targeted mobile app install campaigns using our turnkey service, with improved ROI. More info at http://www.appnique.com.