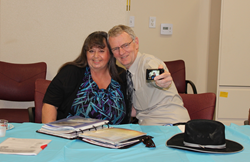 As surgeons, we do surgeries all the time, but we aren't always fortunate enough to know what happens to our patients as time goes on.
Loma Linda, Ca (PRWEB) July 22, 2015
Cherry Valley resident Karen Gwaltney had a lot to celebrate as she walked into Loma Linda University Transplantation Institute earlier this month – 30 years of life thanks to Loma Linda University Medical Center (LLUMC).
Gwaltney, now 58, is celebrating 30 happy, healthy years since she had a kidney transplant at LLUMC on July 4, 1985. Jennifer Nakamura, clinical social worker for the kidney transplant team, coordinated a small celebration for Gwaltney during the kidney support group on July 14, 2015. Also invited was Roger Hadley, MD, who performed Gwaltney's transplant.
"As surgeons, we do surgeries all the time," Hadley said, "but we aren't always fortunate enough to know what happens to our patients as time goes on." Now the dean of LLU School of Medicine, Hadley was excited to reconnect with his former patient.
Gwaltney had been on the waiting list for a kidney for approximately one year when she received the call that a donor had been found. She received her kidney from a deceased donor who had not survived a motorcycle accident.
Research shows that a kidney from a deceased donor functions on average from eight to 12 years. Gwaltney has significantly beaten those odds having had zero complications with her transplanted kidney.
Gwaltney shared with the group how she never met the family of her donor, but was able to send them a letter expressing her gratefulness for the gift of life that had been given to her.
"God has been with me through this journey," she said. "Without having God in my life I don't know where I would be."
Hadley and Gwaltney spent some time going through her scrapbook that documented her life with photos of her family and friends. She had also kept photos of Hadley and her transplant team, news clippings and personal memorabilia of her life since her transplant.
Hadley was elated to see his patient, happy and healthy after such a long time. Before departing he took a selfie with Gwaltney, and even posted the photo to his Instagram account – with her permission of course.
Hadley expressed his appreciation to the group for including him in the celebration. "This has been a highlight of the year for me," he said. "Thank you."
The kidney support group at LLUMC started in the 1980s. Pre- and post transplant patients meet once a month at the LLU Transplantation Institute to share their experiences, ask questions and get educated by physicians and staff. For more information on the support group or the Transplantation Institute, call 909-558-3636.
# # #