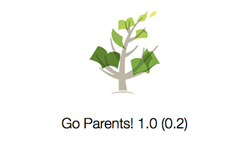 This provides an at-your-fingertips teaching opportunity for parents.
Boise, Idaho (PRWEB) July 23, 2015
Lee Pesky Learning Center announced today the launch of the Go Parents! app on the Apple App Store. Go Parents! provides parents with free, on-the-go access to early literacy and math activities rooted in play and fun. Whether waiting in line at the grocery store, getting dressed for the day or taking a walk outside, parents can easily incorporate learning opportunities into daily routines. The app is available in both English and Spanish.
The application was designed by Lee Pesky Learning Center with help from the staff and families at the Hailey Head Start Program and with grant funding provided by the Wood River Women's Charitable Foundation. The app is designed for parents with children from birth to age 5 in mind. Parents can select an age range that suits their needs upon first opening the app and activities within are tailored based on the age selected. Research has shown that the brain develops 90 percent during the first five years of a child's life—making these critically important learning years for a child. The activities hosted on the application are designed specifically to develop and enhance literacy and math skills in young learners.
"This provides an at-your-fingertips teaching opportunity for parents," said Evelyn Johnson, executive director of Lee Pesky Learning Center. "It's easy to forget that everyday outings and errands can make great learning opportunities. This tool provides simple, effective learning activities for parents to develop math and reading skills when they're on the go with their children."
Activities included in the Go Parents! app:
> Cause and Effect (for infants): While your child is watching you, explore situations of cause and effect, like putting a ball on a slanted surface and watch it roll off!
> Take a Giant Step (for toddlers): Show your child the difference between a baby step and a giant step, then have fun taking different size steps as you walk.
> We're Going on a Letter Hunt (for preschoolers): Focus on one alphabet letter at a time for this game, then try to find that letter wherever you go.
###
About Go Parents!
Go Parents! is available for free on iTUNES and the Apple app store at https://itunes.apple.com/us/app/go-parents!/id995159961?ls=1&mt=8. Go Parents! requires iOS 6.1 or later and is compatible with iPad, iPod, and iPhone.
About Lee Pesky Learning Center
Lee Pesky Learning Center (LPLC) is a nonprofit 501c3 organization founded in 1997 by Alan and Wendy Pesky to honor the life of their son Lee who passed away in 1995 due to an inoperable brain tumor. Lee struggled with learning disabilities throughout his life and through the generosity of his family, donors and supportive foundations, LPLC helps others facing similar challenges. LPLC works together with students, families, and schools to understand and overcome obstacles to learning. LPLC relies on grants, donations and fees for service to support our work in clinics and schools located throughout Idaho.
About Executive Director Evelyn S. Johnson, EdD
Evelyn S. Johnson is a Professor of Special Education at Boise State University and the Executive Director of Lee Pesky Learning Center in Boise, ID. Prior to joining the faculty at BSU, she worked as a research associate for the National Research Center on Learning Disabilities (NRCLD), where she developed numerous technical assistance products to assist state and local educational agencies on RTI and learning disability identification-related issues. Currently, her research focuses on improving the professional practice of teachers and early care providers to reduce the number of children who are at-risk for poor academic outcomes. She is the co-author of RTI: A Practitioner's Guide to Implementing Response to Intervention, and How RTI Works in Secondary Schools.