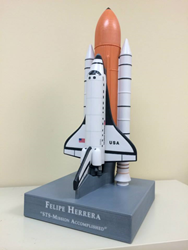 "Our goal with Foreverence is to bring positivity and joy to those families experiencing the heartache of a loss," says Saari.
MINNEAPOLIS, Minn. (PRWEB) July 22, 2015
Coping with the loss of a loved one can be a heartrending experience—while discussing how to prepare for a funeral or memorial can be even harder. Foreverence is changing the landscape of this hard-to-have conversation by offering individuals a new option for burial arrangements. Using 3D printing technology, Foreverence captures the spirit and life of an individual by creating a one-of-a-kind, 3D printed ceramic urn.
In the winter of 2014, the Herrera family contacted Foreverence to build a replica of the Space Shuttle Columbia for their 94-year-old grandfather, Felipe Herrera former NASA engineer, who worked on the space shuttle program. His experience with NASA was a major part of his life, and a legacy the family wanted to celebrate for generations to come.
"Before our father passed, we wanted to share in the memorial process with him," states Yvette Wilson, daughter of Mr. Herrera. "We all sat in silence, blown away by such an amazing completed work of art that so perfectly encapsulates our dad and grandfather. We were thrilled to share the unveiling of the urn with him."
Whether working from a conversation, sketch, intimate item or photograph, Foreverence collaborates with loved ones in conceptualizing the perfect tribute. The outcome is an exceptional, individually crafted 3D printed work of art to carry through the decades.
"Cremation is growing in popularity as an end-of-life choice," states Pete Saari, founder of Foreverence. "Families who choose cremation deserve and demand the same attention to legacy and focus on personalization as burial customers."
The Herrera family story is just one of the many stories that Foreverence has had the pleasure of being a part of. In January 2014, Foreverence worked with the family of late Robert "Bob" Casale, guitarist and keyboardist for the band Devo, to replicate The Energy Dome, Devo's famous hat, to accommodate his final resting place.
"Our goal with Foreverence is to bring positivity and joy to those families experiencing the heartache of a loss," says Saari. "We've seen the delight a memorial keepsake like ours has brought to them—through concept, design and execution—and these families have been thrilled with the end result, a memento of the person they so dearly loved."
The options available at death are numerous. Foreverence believes that the best time to be making arrangements is in advance. Pre-planning allows individuals to carefully choose specific items that they want without burdening their family with the hard choices later.
To learn more about Foreverence, visit http://www.foreverence.com or click here to view photos of urn creations.
###
About Foreverence:
Founded in 2013, Foreverence sought to reimagine custom urns and deliver exceptional quality to the cremation market. Made in Eden Praire, Minn., Foreverence's one-of-a-kind tributes are crafted with family members and friends, in a three-step process that ensures an individual's personality is accurately portrayed. Whether through an urn or memento, Foreverence strives to elevate the conversation around end-of-life choices and legacy. For more information, visit http://www.foreverence.com or call 888-730-6111.