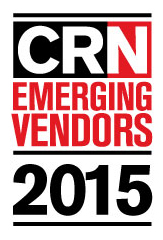 "We are deeply engaged with our channel partners because they have been fundamental in taking our platform and products into the telco and enterprise market..."
Bellevue, WA (PRWEB) July 22, 2015
ComputeNext, which has built an award-winning platform which enables cloud service commerce, provisioning, and management from public cloud infrastructure and software providers in over 60 locations worldwide, announced today it has been named to The Channel Company's exclusive 2015 CRN® Emerging Vendors List. The annual list features up-and-coming technology vendors that have introduced innovative new products, creating opportunities for channel partners in North America to create high-margin, cutting-edge solutions for their customers. The vendors recognized this year have demonstrated a commitment to developing new technologies to meet growing market demands.
ComputeNext's business model offers a variety of opportunities for the channel to deliver value to their preferred customer segments. Their platform is available as a white-label solution which can be offered as a Marketplace-as-a-Service, as a custom deployment for telecommunications companies, service providers, and large IT resellers/distributors, or products and services can be directly resold from a custom storefront. Channel partners today can partner with the company in some of the following scenarios:
• Resell a growing selection of cloud services available on the ComputeNext Global Cloud Marketplace direct to SMB/SME segments
• Create their own branded Cloud Services Brokerage storefront and add value by onboarding their own branded services, as well as bundle 3rd party cloud service offerings
• Partner with the company and resell an award-winning and proven platform into a growing number of high value deals in the telco, service provider, and other key segments of the IT distribution value chain who are seeking to implement their own Cloud Services Brokerage and Cloud Marketplace platforms.
Additionally, in an effort to provide partners with a strong understanding of ComputeNext's platform the company has launched cloudED, a program which offers both guided and self-paced educational pathways to creating new recurring revenue streams. The online and offline courses were created to facilitate ComputeNext channel partners capabilities in consulting, recommending, and implementing.
"The massive disruption that cloud has caused in the IT distribution chain has created the demand for a platform that empowers traditional service providers and integrators to deliver the cloud services how, when, and where their customers need them," said Dan Moore, Director of Channel Development at ComputeNext. "We are deeply engaged with our channel partners because they have been fundamental in taking our platform and products into the telco and enterprise market - we're proud to be recognized by CRN for our efforts and plan on continuing the drive to educate, train, and support the sales efforts of a key-drive of our growth - our channel partners."
"Solution providers continue to keep their finger on the pulse of emerging technology in order to stay ahead of customer needs. The exciting technology vendors recognized in this year's Emerging Vendors List don't disappoint—the innovative technologies they bring to the table provide channel partners with product options that will propel their success into the future," said Robert Faletra, CEO of The Channel Company. "We congratulate 2015's Emerging Vendors for their outstanding efforts and for delivering cutting-edge technology solutions that will continue to evolve the IT channel."
Companies included in CRN's 2015 Emerging Vendors list were founded in 2009 or later and are actively working with channel partners in North America. The list, along with information about each vendor, will be published in CRN's August 2015 issue and will be available online.
About ComputeNext:
ComputeNext is an award-winning Cloud Marketplace Platform provider based in Bellevue, WA. They empower consumers, vendors, and distributors of cloud services to connect and transact in a transparent and near real-time service delivery model. Their platform empowers cloud service providers, IT resellers and distributors with a way to drive revenue and enhance customer loyalty with a white label cloud marketplace. Their Marketplace platform offers the widest selection of globally distributed cloud services and also enables enterprise IT an intuitive, cost-effective way to internally control, manage, and orchestrate cloud service procurement and delivery. Learn more at ComputeNext today.
About The Channel Company
The Channel Company, with established brands including CRN®, XChange® Events, IPED® and SharedVue®, is the channel community's trusted authority for growth and innovation. For more than three decades, we have leveraged our proven and leading-edge platforms to deliver prescriptive sales and marketing solutions for the technology channel. The Channel Company provides Communication, Recruitment, Engagement, Enablement, Demand Generation and Intelligence services to drive technology partnerships. Learn more at TheChannelCompany.com
The Channel Company, CRN®, XChange® Events, IPED® and SharedVue® are registered trademarks of The Channel Company, LLC. All rights reserved. All other brand names, product names, or service names that appear herein are trademarks or service marks of their respective owners.