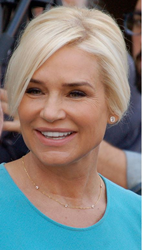 All are actively making a commitment to help change the future for Lyme patients.
Greenwich, CT and New York, NY (PRWEB) July 23, 2015
A who's who of notables will be honored Thursday, October 8, when Global Lyme Alliance (GLA), the leading Lyme and tick-borne disease nonprofit promoting research and awareness, holds its "Uniting for a Lyme-Free World" Inaugural Gala at Cipriani, 42nd Street in New York.
The four individuals—Carlos Brito, President and CEO of Anheuser-Busch InBev; Yolanda Foster, Bravo-TV personality and model; Ally Hilfiger, author and designer, and Thalia, pop star, songwriter and actress—all have personal experiences with Lyme and are committed to playing an active role in finding a cure for the disease.
"We are thrilled to have these exceptional individuals join us for what promises to be an exceptional night," said GLA Chairman Robert Kobre. "All are actively making a commitment to help change the future for Lyme patients by raising awareness and supporting our mission to fund research for the development of an accurate diagnostic test and a cure for this insidious disease."
The evening will also celebrate the inauguration of Global Lyme Alliance, formed by the recent merger of Greenwich's Lyme Research Alliance (LRA) and New York's Tick-Borne Disease Alliance (TDBA), two of the most influential voices on Lyme and tick-borne diseases. GLA combines LRA's research expertise and vast network of world-renowned medical experts and researchers, with TBDA's proven grass-roots awareness campaigns and national fundraising events.
"By consolidating our two groups, we are now able to speak with a single, more powerful voice to advance the fight against tick-borne diseases," said Kobre. "We have harnessed our individual strengths and combined them to pursue our shared mission to develop effective treatments for Lyme disease."
In addition, said Event Chair Tommy Hilfiger, "as a unified voice, we raise awareness through public education and serve as an information resource, leading the fight against the pervasive global disease." Hilfiger is joined by event chairs Brian J. Brille, Crown Sterling LLC; Sabine Chalmers, Anheuser-Busch InBev; David Foster, Verve Music Group; Peter Harf, JAB Holding Company; Donna Karan, DKNY, and Tommy Mottola, Casablanca Records.
Lyme disease is the most common vector-borne disease in the U.S. with over 300,000 new cases diagnosed in the U.S. each year, according to the Centers for Disease Control and Prevention (CDC). The number of Lyme cases reported annually has increased nearly 25-fold since national surveillance began in 1982. There are no accurate diagnostic tests for the tick-borne disease, no tests to prove that Lyme bacteria are eradicated or that an individual is cured.
According to the CDC, some 15-20 percent of individuals treated for Lyme continue to experience severe arthritis, persistent fatigue, impaired vision, memory loss and other cognitive problems.
The Global Lyme Alliance Inaugural Gala will be held October 8 at Cipriani 42nd Street, 110 East 42nd Street at Park Avenue, NYC and features a cocktail reception at 6:30 p.m., dinner and awards ceremony, at 7:30 p.m. To reserve a table or inquire about sponsorship opportunities, please call Camy Calve Events at 212-218-4080 or email Camy.Calve(AT)GlobalLymeAlliance.org.
ABOUT GLOBAL LYME ALLIANCE
Global Lyme Alliance, the largest tick-borne disease organization in the nation, is dedicated to supporting Lyme and tick-borne disease research and education. It was formed by the merger of Lyme Research Alliance and Tick-Borne Disease Alliance. For more information, go to GlobalLymeAlliance.org.