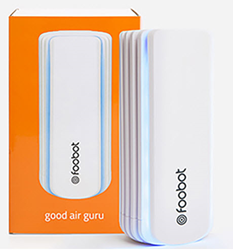 By using the user-friendly data, we find customers save money and frustration by choosing the best air purifier, humidifier, or air conditioner etc for their specific situation.
Peoria, IL (PRWEB) July 28, 2015
US Air Purifiers, LLC, an Illinois based firm specializing in high quality residential and commercial air purification systems, announced the addition of the Foobot, an indoor air quality meter that monitors temperature, particulates, tVOCs (Total Volatile Organic Compounds), and humidity. This tool is used in many ways to create the healthiest environment. For example, it is ideal to help customers decide how many or which air purifier is best such as one that focuses on particulate matter or that one that focuses on VOCs. Maybe they will discover that the primary problem is humidity or temperature and a portable air conditioner will offer a more comfortable, healthier environment.
The Foobot is an easy to use, compact home air quality monitoring device that will notify users of airborne impurities. Syncing directly to a smart phone, iPod, or iPad, the Foobot allows users to see air purity readings, as well as recommendations to improve overall air quality based on those readings, any time. In addition to this useful readout system, the Foobot also features an LED lighting display that acts as an indicator of air quality in which different colors indicate different levels of air purity. The system is rated for monitoring the entirety of any one story single family dwelling.
The Foobot system is extremely useful in finding the optimal placement for an air purifier to treat the air within a house, as well as for monitoring that purifier's performance over time. When used with the right purifier, the system can be a very useful tool for ensuring the best air quality, said Barb Lulay, co-owner and operator of US Air Purifiers. Lulay continues, " By using the user-friendly data, customers save money and frustration by choosing the best air purifier(s) for their specific situation."
About the Business:
Barb and Dick Lulay's customers are passionate about naturally reducing their risk of disease. Their customer service and product expertise make shopping with http://www.USAirPurifiers.com and http://www.OttersDream.com an ideal experience. With a full line of natural products such as air purifiers, natural supplements, green cleaners, weight management and paraben free skin care, families find they can conveniently do their household shopping online with home delivery. As successful business owners, the Lulays offer a mentoring program for other aspiring entrepreneurs. They present exceptional marketing tools and a training program that shows how to generate immediate income as well as long term passive income.