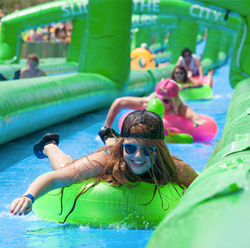 I can't think of anything better than a Slip 'N Slide to cool off on a hot summer day
Tulsa, OK (PRWEB) July 30, 2015
The summer is getting hotter and Slide the City™ has found a new way to cool off. On August 29, event organizers are bringing their one-of-a-kind slide right onto Main Street. Families and friends alike can slip, slide and splash down this massive slippery surface.
"I can't think of anything better than a Slip 'N Slide to cool off on a hot summer day," said Chris Conran, Slide the City™ event director. "We are excited to share it with the community in Tulsa."
The enormous slide, that spans three city blocks, will spend the day on Main Street. Adventure seekers can speed down the slide on inner tubes while onlookers enjoy the festival equip with food provided by local vendors. Event organizers anticipate that thousands of participants will come to experience this Guinness World Record™-breaking slide.
Slide the City™ donates a portion of the proceeds from every event to a local charity. For their Tulsa event, they will be donating to The Muscular Dystrophy Association. This nonprofit organization is dedicated to finding treatments and cures for neuromuscular diseases.
"Local charities work so hard to help the community, it is exciting to help the community give back," Conran said. "This is our first time partnering with The Muscular Dystrophy Association and we are thrilled to be donating to them this year."
Sliding starts at 9am. Participants can purchase a one, three or super slider pass during a selected wave time and are encouraged to sign up before August 8 to take advantage of the current Facebook promo. Pricing starts at $10.
Those over 5 years of age and 46 inches tall are welcome to slide! Visit the Slide the City Facebook to see what fans have to say https://www.facebook.com/slidethecity or visit http://www.slidethecity.com/events/tulsa/ for more information about Slide the City Tulsa.
About Slide the City™
The first event of its kind, Slide the City™ has seen massive growth since it started in 2014. This original concept went viral when the video was released, and this year promises to be bigger, better, and wetter. Slide the City™ is on track to produce more than 100 in the US and Canada and has entered various other countries around the world. Slide the City™ is a family-friendly event bringing 1,000 feet of padded vinyl onto city streets. This giant three-lane slide travels around the country so people from coast-to-coast can have the slide of their lives!