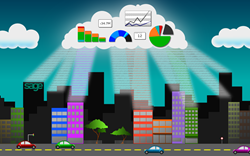 The first true click-and-run cloud business intelligence solution for Sage 50 users
Buford, GA (PRWEB) July 24, 2015
Small and medium sized businesses struggle with business intelligence and reporting. Difficulties include training, setting up reports, and keeping the data current. New cloud solutions such as Microsoft PowerBI can reduce the need for end-user training but challenges still remain with setting up reports and managing the data within the solution.
A new partnership between Suntico and GoPowerBI will change this. GoPowerBI will use Microsoft's PowerBI product to create an extensive range of reports that are ready to use without modification. Suntico's connector technology will ensure that these reports are always up to date and in sync with the company's accounting software.
The service will be available first for companies that use Sage 50 Accounting (US Edition). Other accounting software packages such as Sage 50 Accounting (Canadian Edition), Sage 50 Accounts (UK/Irish Editions) and QuickBooks will follow shortly.
"This will be the first true click-and-run cloud business intelligence solution for Sage 50 users," says Hugh Johnson, Head of Business Development at Suntico.
"Microsoft PowerBI is a very powerful cloud business intelligence solution, yet very easy to learn for a small business that is used to working with Micoroft Excel," says Craig Juta, Co-founder at GoPowerBI.
About Suntico:
Suntico is an online platform to address the multi-trillion dollar productivity gap in small to medium sized businesses employing 10 to 100 people and includes a Facebook-like online account management solution.
For more information visit the Suntico website at https://www.suntico.com
About GoPowerBI:
GoPowerBI provides a cost-effective business intelligence product with an extensive range of ready-made reports for small to medium sized companies based on Microsoft PowerBI.
For more information visit the GoPowerBI website at http://www.gopowerbi.com