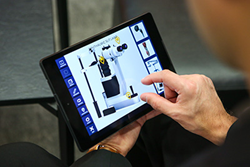 It's time to give those old PowerPoint slides and PDF documents a rest.
Southfield, Michigan (PRWEB) July 22, 2015
As businesses move to the convenience of mobile devices for presentations and cataloging, Detroit-area's Onu released their proprietary application Onu One. They have employed patent-pending technology to create an easy-to use, subscription-based catalog app that harnesses 3D models, images, videos, and documents to present products directly on a mobile device.
"We've developed a technology to use clients' available engineering and CAD renderings to easily create 3D product views for a powerful mobile catalog," said Sam Sesti, Onu's president. "Onu One gives sales forces, engineers, marketers, and technicians the ability to leverage the CAD and 3D assets they already have."
The app is available on both Android and Apple devices.
"It's time to give those old PowerPoint slides and PDF documents a rest," says Sesti. "Onu One is powerful out in the field and when presenting at trade shows."
As the proliferation of 3D printers and mobile devices has grown, so has demand for an easy-to-use platform to display 3D models on a tablet or smartphone. Onu One fills that gap and makes it easy to display and interact with 3D models without a laptop loaded with specialized software.
"There's no need for IT intervention or heavy financial investment, and your files are safe," Sesti says. Using the Onu One portal is similar to uploading files to WordPress or Facebook. "Clients' modeling data is safe since our conversion process modifies the files to a format unusable outside the app," said Sesti.
"We've been working on this project for a long time and it's exciting to see it come to fruition," added Sesti.
More information about Onu One can be found at onu1.com.