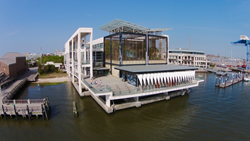 Charleston, S.C. (PRWEB) July 22, 2015
Celebrate the ocean's most fascinating predator during South Carolina Aquarium Shark Week, August 8-14, 2015. Experience seven days of fun with activities and programs that dispel the misconceptions surrounding sharks.
Shark Week happenings:
Splash into the Shark Week experience with tons of toothy fun! From shark-themed dive shows, interactive shark carts, and our popular Shark on the Shelf, there's excitement for every age all week long:

Come fingers to fins with sharks and rays in the new Shark Shallows touch experience
Be greeted by Bruce, the Aquarium's giant inflatable shark
Touch a bamboo shark (daily at 10 a.m.)
Interact with experts at shark-themed dive shows
Find the "Shark on the Shelf" making a special summer appearance
Get your photo taken in a giant Megalodon jaw
Play in the shark dress-up area
Marvel at more than 10 sharks that call the Great Ocean Tank home, including sand tiger sharks!
Take home your own shark tooth!
For more information on Shark Week, visit scaquarium.org/sharkweek or call (843) 577-FISH (3474).
Thanks in part to our Shark Week sponsors:
News 2 (counton2.com), 105.5 The Bridge (1055thebridge.com), Kickin' 92.5 (kickin925.com), Mix 96 (mix96live.com).
For all media inquiries, please contact Kate Dittloff at (843) 579-8660 or kdittloff(at)scaquarium(dot)org.
About the South Carolina Aquarium:
The South Carolina Aquarium, Charleston's most visited attraction, features thousands of amazing aquatic animals from river otters and sharks to loggerhead turtles in more than 60 exhibits representing the rich biodiversity of South Carolina from the mountains to the sea. Dedicated to promoting education and conservation, the Aquarium also presents fabulous views of Charleston Harbor and interactive exhibits and programs for visitors of all ages.
The South Carolina Aquarium, a 501(c)(3) nonprofit organization, is open daily from 9 a.m. to 6 p.m. The Aquarium is closed Thanksgiving Day, half day Dec. 24 (open 9 a.m. to 1 p.m.) and Dec. 25. Admission prices are: Toddlers (2 and under) free; Youth (3-12) $17.95; Adults (13+) $24.95. The Aquarium plus the 4-D Theater experience is free for Toddlers, $22.95 for Children, $29.95 for Adults. The 4-D Theater experience only is $6.95 for Children and Adults, and free for Members. For more information call (843) 577-FISH (3474) or visit scaquarium.org. Memberships are available by calling (843) 579-8518.
###