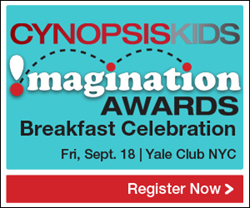 New York, NY (PRWEB) July 23, 2015
Cynopsis Kids will recognize three of the industry's top programming pioneers at the !magination Awards on Friday, September 18, in New York City. Adam Bonnett, EVP of Original Programming at Disney Channels Worldwide; Rob Sorcher Chief Content Officer at Cartoon Network; and Tara Sorensen, Head of Kids Programming at Amazon Studios will receive the 2015 Content Leadership Award. The honorees will be on hand to participate in a roundtable "state of kids content" discussion hosted by Cynopsis Kids editor Cathy Applefeld Olson.
Market-savvy and agile, these three executives are leading the new golden age of children's content delivered across multiple platforms. Bonnett continues to elevate live-action programming for Disney Channel and Disney XD, nurturing both new and established series and original movies such as this summer's Descendants. Sorcher is driving Cartoon's original content development and programming acquisition strategies, including the network's first digital-only series Mighty Magiswords. As Amazon's kids connoisseur, Sorensen guides not only the development of new content, including Gortimer Gibbons' Life on Normal Street, but the studio's model of program development based on online submissions and feedback.
These honorees, along with dozens of category winners, will be honored on September 18 at the Cynopsis Kids Awards breakfast. Register for the Breakfast event here. General categories include awards for the year's best work in apps, online interactive experience, series/specials, advertising campaigns and more. The full list of finalists and categories can be found here.
For registration questions, contact Sarah Martinez at Sarah(at)cynopsis(dot)com. For advertising or sponsorship information, contact VP of Sales & Marketing Mike Farina at mike(at)cynopsis(dot)com.
ABOUT CYNOPSIS MEDIA
Cynopsis Media is a division of Access Intelligence LLC. The Cynopsis Media family of products includes Cynopsis, Cynopsis Digital, and Cynopsis Sports daily e-publications, Cynopsis Kids & Cynopsis Classified Advantage e-publications, Special eReports, Event/Summits, the industry's most robust Classifieds and more. Visit Cynopsis.com.
###