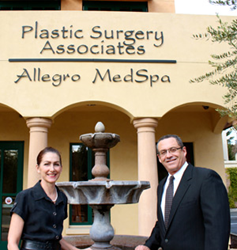 Santa Rosa, California (PRWEB) July 22, 2015
Napa Valley plastic surgeons, Dr. Heath Furnas and Dr. Francisco Canales are one of the first cosmetic practices to offer patients the noninvasive, vaginal rejuvenating procedure, ThermiVa. The innovative treatment offers dramatic improvement for lax vaginal muscles, addressing tone and tightness without surgery. ThermiVa, the procedure provides a never before seen option in vaginal rejuvenation.
ThermiVa is the first and only temperature regulated, radiofrequency system used to tighten the vaginal muscles without an invasive surgical procedure. By applying gentle heat, pulsating deep into the vaginal tissues, ThermiVa kick-starts the process of collagen remodeling. These new stores of collagen help to strengthen the structural support of the vaginal walls, thus improving the overall elasticity of the tissues.
Vaginal childbirth and the normal aging process eventually cause the vaginal muscles to relax and loose elasticity. This change can result in a loss of sexual sensation during intercourse, impacting the satisfaction for both partners. ThermiVa restores the vaginal muscle tone to its 'pre-baby' condition, meaning it significantly raises sensation during sexual activity and enhances orgasmic quality. The procedure can also improve the common problem of post-menopausal dryness.
A ThermiVa treatment takes less than 20 minutes, performed in a comfortable treatment room at Plastic Surgery Associates' Santa Rosa office. Benefits can be seen after one treatment, but to reach optimal results, three sessions may be necessary. The ThermiVa treatment is noninvasive, meaning no incisions or sutures; patients are back to normal activities immediately. There are also few risks or complications.
Dr. Furnas concludes that bringing ThermiVa to Plastic Surgery Associates is part of the practice's mission for outstanding patient care. "We strive to add joy to our patients' lives through genuine caring, generosity of spirit, and the quality of our work, Dr. Furnas shares the group's mantra. ThermiVa can bring patients the happiness and self-confidence Plastic Surgery Associates works hard to impart.
Both of Plastic Surgery Associates' founding physicians, Dr. Francisco Canales and Dr. Heather Furnas, are Board Certified in Plastic Surgery. Trained at some of the country's most elite universities, Dr. Furnas and Dr. Canales bring more than 40 years of combined plastic surgery experience to each patient. On top of their daily practice, Dr. Canales and Dr. Furnas volunteer their time and skills helping children in need around the world, in places such as the Philippines, Peru, and Honduras.
More information can be obtained on the ThermiVa procedure by going to http://www.enhanceyourimage.com. To schedule a private, complimentary consultation with Dr. Canales or Dr. Furnas, contact their Santa Rosa office at 707.537.2111. Plastic Surgery Associates performs a wide variety of surgical and noninvasive procedures designed to improve both aesthetics and physical function. Additionally, they offer simple payment plans that can be designed around any budget.
Contact:
Plastic Surgery Associates
4625 Quigg Drive
Santa Rosa, California 95409
707.537.2111
http://www.enhanceyourimage.com