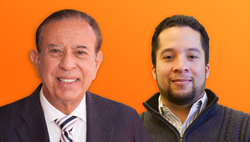 "At MOSI, we treat scientists like rock stars, and this is our chance to celebrate their accomplishments and contributions to the world," says Molly Demeulenaere, CEO and President of MOSI.
Tampa, Fl (PRWEB) July 23, 2015
Tampa's Museum of Science & Industry has chosen the 2015 honorees for the National Hispanic Scientists of the Year (NHSOY). Dr. Modesto Alex Maidique, President Emeritus of Florida International University (FIU) in Miami, Florida and the first Cuban-American university president in U.S. history, will be the NHSOY recipient. Dr. Miguel Morales-Silva, honored as MOSI's second Early Career Award recipient, is computational materials physicist and was recently honored with the 2014 Presidential Early Career Award for Science and Engineering.
"At MOSI, we treat scientists like rock stars, and this is our chance to celebrate their accomplishments and contributions to the world," says Molly Demeulenaere, CEO and President of MOSI. "We want to show the community that no matter what your background looks like, you have the incredible opportunity to do amazing things through the power of S.T.E.A.M. (Science, Technology, Engineering, Art and Math)."
Now in its 15th year, MOSI has recognized nationally distinguished Hispanic science and engineering professionals to serve as role models and mentors for children, especially Tampa Bay's Hispanic youth. MOSI will present this year's National Hispanic Scientist of the Year Award to Dr. Maidique and the Early Career Award to Dr. Morales-Silva during a gala award ceremony on Saturday, Oct. 24, at 7 p.m.
The MOSI NHSOY represents the vision of local business woman Maruchi Azorin, who was greatly concerned by the statistics showing an alarmingly high dropout rate for Hispanic students back in the year 2000. At the time, the Department of Education research showed that Hispanics were more likely to drop out of high school than any other ethnic group in the U.S. While improving, these trends are persisting and according to the National Center for Education Statistics, the 2012 dropout rate for Hispanic students was 13% compared to 8% for African Americans and 4% for Caucasians.
In an effort to address this disparity in the Hispanic community, proceeds from the event help provide about 1,200 students from underserved communities and low-income schools an exciting day of mentoring with Dr. Maidique and Dr. Morales-Silva, and access to over 450 MOSI hands-on exhibits during Meet the Hispanic Scientists Day, which will take place on Friday, Oct. 23. Event proceeds also help to fund MOSI's YES! (Youth Enriched by S.T.E.A.M.) Team, an educational enrichment and vocational training program designed to help at-risk youth develop and progress in a supportive peer-group environment.
For more information on the National Hispanic Scientist of the Year and the Early Career National Hispanic Scientist, visit http://mosinhsoy.org or contact Kellen Nixon at Kellen.nixon(at)mosi(dot)org or 813-987-6017.
About MOSI (Museum of Science & Industry)
MOSI is a not-for-profit, community-based institution and educational resource dedicated to advancing public interest, knowledge, and understanding of science, technology, engineering, art and math (S.T.E.A.M.) and is home to the Florida Hospital IMAX® DOME Theatre, the only IMAX dome theater in the state of Florida. MOSI's core ideology is to make a difference in people's lives by making science real for people of all ages and backgrounds. MOSI gives away more than $3 million in free or discounted memberships each year, $250,000 in free tickets annually and approximately 600 scholarships each year for children to attend MOSI Summer Science Camps. Additionally, MOSI's education staff works closely with area teachers offering free training and support for area science educators. With a total size of more than 400,000 square feet, MOSI is the largest science center in the southeastern United States. Learn through play inside Kids In Charge! the largest Children's Science Center in the nation or The Amazing You—a 13,000-square-foot exhibition on health and wellness. Conquer your fears on MOSI's Sky Trail® Ropes Course and Zip Line. Budding inventors can engineer anything imaginable and hold it in the palm of their hand in MOSI's technology playground and inventor's studio, Idea Zone; and aspiring astronauts can travel to the moon to operate a lunar colony in Mission: Moonbase, funded in part by NASA. MOSI is the proud winner of the 2009 National Medal for Museums by the Institute of Museum and Library Services, the nation's highest honor for museums, and a recipient of the NOYCE Foundation's Bright Lights Community Engagement Award. For more information on MOSI, visit http://www.mosi.org.
Former MOSI National Hispanic Scientist of the Year Award honorees
Dr. Rafael Bras (2014) Civil Engineer and Provost and Executive Vice President for Academic Affairs at Georgia Tech; Dr. Ana Maria Rey (2014 Early Career Honoree), Columbian physicist at the University of Colorado, 2013 PECAS and 2013 MacArthur "Genius" Grant recipient; Dr. Raul Cuero (2013), Director of the International Park of Creativity, Colombia; Dr. Nora D. Volkow (2012), Director of the National Institute of Drug Abuse at the National Institutes of Health; Cristián Samper (2011), Director of the Smithsonian Institution's National Museum of Natural History; Dr. Dan Arvizu (2010), Director of the US Dept. of Energy National Renewable Energy Laboratory; Dr. Nils J. Diaz (2009), former Director of the US Nuclear Regulatory Commission; Dr. Lydia Villa-Komaroff (2008), Molecular Biologist; Dr. Louis A. Martin-Vega (2007), Industrial Engineer; Dr. Inés Cifuentes (2006), Seismologist; Dr. Edmond J. Yunis (2005), Physician, Researcher, Harvard professor; Dr. Antonia Coello Novello (2004), former U.S. Surgeon General; Dr. Mario Molina (2003), Nobel Laureate in Chemistry; Fernando "Frank" Caldeiro (2002), NASA Astronaut; Dr. Alejandro Acevedo-Gutiérrez (2001), Marine Biologist.