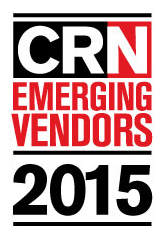 Vijilan Security, the IT security company that exclusively enables Managed Service Providers (MSPs) and IT Solution Providers to deliver security services, has been named to The Channel Company's exclusive 2015 CRN® Emerging Vendors List
Ft. Lauderdale, Florida (PRWEB) July 23, 2015
Vijilan Security, the IT security company that exclusively enables Managed Service Providers (MSPs) and IT Solution Providers to deliver security services, today announced it has been named to The Channel Company's exclusive 2015 CRN® Emerging Vendors List. The annual list features up-and-coming technology vendors that have introduced innovative new products, creating opportunities for channel partners in North America to create high-margin, cutting-edge solutions for their customers. The vendors recognized this year have demonstrated a commitment to developing new technologies to meet growing market demands.
Vijilan's ThreatDetect, ThreatAnalyze and ThreatRespond security services are designed to help small to medium-sized businesses (SMBs) protect themselves from increasingly sophisticated cyber-attacks. To do so, Vijilan delivers 24/7 cyberthreat monitoring services to MSPs and IT Solution Providers, enabling them to give full protection to their small and mid-sized customers.
Grounded in 15 years of threat intelligence and knowledge base expertise, the company's advanced security services are sold exclusively through the Vijilan Partner Program, a white label channel sales model. With several 24/7 security service, support and log archiving offerings, Vijilan works with partners to determine which offering works best with their business model and the needs of its clients. Vijilan fills a big gap in the industry by being the only security services provider to focus exclusively on the MSP market.
Quotes
Robert Faletra, CEO, The Channel Company
"Solution providers continue to keep their finger on the pulse of emerging technology in order to stay ahead of customer needs. The exciting technology vendors recognized in this year's Emerging Vendors List don't disappoint—the innovative technologies they bring to the table provide channel partners with product options that will propel their success into the future. We congratulate 2015's Emerging Vendors for their outstanding efforts and for delivering cutting-edge technology solutions that will continue to evolve the IT channel."
Gary Mullen, CMO, Vijilan
"IT solution providers and MSPs have historically struggled to keep up with security demands because of resources. As more and more customers, especially SMBs, are turning to their partners to manage security, we're filling a hole in the market by giving partners the intelligence, capabilities and infrastructure to offer round-the-clock cyberthreat monitoring services. After launching Vijilan into the North American market less than two months ago, we're blown away by the response we've seen from the partner community. By being a seamless overlay to existing infrastructure, our partners are able to take Vijilan's service offerings immediately and directly to their customers."
Companies included in CRN's 2015 Emerging Vendors list were founded in 2009 or later and are actively working with channel partners in North America. The list, along with information about each vendor, will be published in CRN's August 2015 issue and will be available online at http://www.crn.com.
Tweet This:
@TheChannelCo Names @Vijilansoc to 2015 @CRN #CRNEmergingVendors – http://www.crn.com/rankings-and-lists/ev2015.htm
About Vijilan
Vijilan Security enables Managed Security Providers (MSPs) and IT solution providers to sell cost-effective 24/7 security services to their clients. The company maintains a 100% channel sales model, meaning its services are sold exclusively through managed security and service providers. For more information about the company or partnership opportunities, visit: http://www.vijilan.com.
About The Channel Company
The Channel Company, with established brands including CRN®, XChange® Events, IPED® and SharedVue®, is the channel community's trusted authority for growth and innovation. For more than three decades, we have leveraged our proven and leading-edge platforms to deliver prescriptive sales and marketing solutions for the technology channel. The Channel Company provides Communication, Recruitment, Engagement, Enablement, Demand Generation and Intelligence services to drive technology partnerships. Learn more at http://www.thechannelcompany.com.
The Channel Company, CRN®, XChange® Events, IPED® and SharedVue® are registered trademarks of The Channel Company, LLC. All rights reserved. All other brand names, product names, or service names that appear herein are trademarks or service marks of their respective owners.