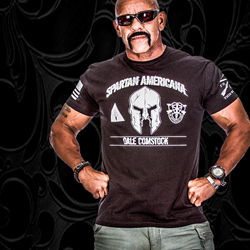 Carol Stream, IL (PRWEB) July 23, 2015
Who: Chicagoland's veteran-owned and operated, Grunt Style specializing in warrior-inspired apparel and gear for men and women, partners with Dale Comstock, U.S. Army Veteran, former Delta Force Operator and author of The American Badass to create a one-of-a-kind t-shirt design.
What: Grunt Style and Dale Comstock worked together to design and develop an exclusive t-shirt to benefit Active Heroes, a non-profit dedicated to ending veteran suicide through its programs to support active duty military, veterans and their families.
Comstock visited the Grunt Style headquarters earlier this month and collaborated on the design of the shirt with one of Grunt Style's Army veteran designers. That same day, while Comstock toured the facility, the Grunt Style team of veterans screened and printed the shirt. Comstock was psyched with the design and along with Daniel Alarik, Grunt Style founder and commanding officer, decided to print a limited quantity to benefit Active Heroes.
The t-shirt is a soft, ultra-comfortable, black shirt made of 100 percent cotton from the USA with Comstock's brand 'Spartan Americana' across the top, a skull design, and the de oppresso liber patch – reflecting his work in the U.S. Army special forces.
When: Dale Comstock's exclusively-designed, limited supply Grunt Style t-shirt is available now for $50 (plus shipping and tax). All proceeds from the sale of the shirts will be donated to Active Heroes.
Where: Visit Gruntstyle.com (http://www.gruntstyle.com/dale-comstock-spartan-americana.html) to purchase the shirt. Check out the video of Comstock's Grunt Style tour on YouTube at https://www.youtube.com/watch?v=yefL-cKI6U8. For more information on Active Heroes, visit activeheroes.org.
###
About Grunt Style
Grunt Style is a veteran-owned and operated company, specializing in-house designed, quality apparel and gear for men and women. It provides its customers with a voice through its warrior-inspired merchandise to share and inspire patriotism in the United States. Founded in 2009 by Army Veteran and Drill Sergeant, Daniel Alarik, who has grown the company from first printing t-shirts in his basement to its headquarters in Carol Stream, Ill. with 80+ employees. Grunt Style takes the best of what's gained by serving in the military – structure, dedication and camaraderie and employs 75 percent military veterans and 100 percent American patriots. Grunt Style's ethos is "Pride in self, in our military and in our county." All Grunt Style shirts have a 'Beer Guarantee' and are covered for life. For more information, visit http://www.gruntstyle.com or go to Facebook.com/Gruntstyle, Twitter.com/Grunstyle, Instagram.com/grunt_style and Pinterest.com/expore/grunt-style.
About Dale Comstock
Comstock retired from the U.S. Army in August of 2001, after serving 5 years in the 3rd Special Forces Group (Green Beret) as the Senior NCO and Light and Heavy Weapons expert on an A-Team; 10 years with the 1st Special Forces Operational Detachment – Delta (The Delta Force) as an assault Team Leader and Explosives Expert; he served 4 years with the 82nd Airborne Division as an Airborne Infantryman in a Long Range Reconnaissance Platoon; and he served 9 years as a independent security contractor in support of the Global War on Terror (GWOT). For more information, visit http://www.dalecomstock.com or go to Facebook.com/Dale.AmericanBadass.Comstock and Twitter.com/DaleComstock.