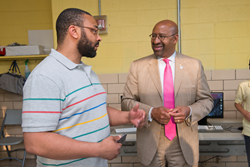 Providing coding skills to low income adults can provide a very real path out of poverty
Philadelphia, PA (PRWEB) July 23, 2015
Today Coded by Kids, a Philadelphia based tech education organization that provides free coding classes to disadvantaged children, launched Coded by U. Coded by U will be focused on fighting unemployment, underemployment and poverty by providing low-income adults with web development education opportunities, along with pathways into web development careers.
Sylvester Mobley, Executive Director of Coded by Kids, is leading the initiative. According to Sylvester, "providing coding education opportunities to adults who lack access to traditional development bootcamps and computer science programs, but have the talent, drive and determination to successfully complete one is a win for our students, it's a win for the communities they live in and it's a win for companies in desperate need of qualified developers. We also gain the ability to create a non-traditional pipeline into the tech industry for men and women who come from minority groups that have traditionally been underrepresented in tech."
The foundation of Coded by U is the Web Development Academy (the Academy). The Academy is a rigorous 12 week program that is designed to provide students with a solid foundation in web development and prepare them for entry level opportunities as developers. During the Academy students are taught by practicing developers and learn through a combination of instructor led classes and working on real world projects for nonprofit organizations.
The first class of the Academy will start on 8/3/15 and will be held at the Marian Anderson Recreation Center, 744 South 17th Street, Philadelphia, PA.