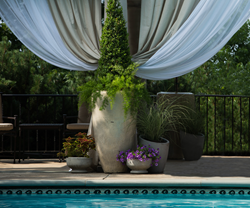 "We selected strong, modern pieces with clean lines that fit into the house, which was really on the more traditional side," says Set Decorator Merissa Lombardo.
Cleveland, Ohio (PRWEB) July 23, 2015
Arhaus, the lifestyle retailer, headquartered in Cleveland and at http://www.arhaus.com, recently partnered with the Weinstein Company on their upcoming summer release Southpaw. A sports drama set to open in theatres Friday, July 24, Southpaw stars Jake Gyllenhaal as boxer Billy Hope. Arhaus collaborated with Set Decorator Merissa Lombardo to furnish the luxury New York mansion, home to Hope and his family.
The residence, shot on location in Pittsburgh, serves as the main stage for the film and overall story written by Kurt Sutter and directed by Antoine Fuqua.
Everything from sofas and chairs, to bar stools, lighting, to coffee and end tables, office furniture and even outdoor accessories were provided by the retailer.
"We selected strong, modern pieces with clean lines that fit into the house, which was really on the more traditional side," says Lombardo. "The furnishings are grand showcasing the young couple's newly acquired success and wealth, but they also have a warm and comfortable feel to represent their life as a family and Maureen as she's absent in a large portion of the film."
Maureen is Hope's wife played by Rachel McAdams.
While Arhaus' furniture can be seen throughout the film in various rooms of the home, it's the upholstered Barrister bed in the couple's master bedroom whereby several key scenes play out.
Other designs by the retailer that make an on-screen appearance include an assortment of handmade ceramic planters by the pool, and several of the retailer's signature leather sofas and chairs in the living room and in Hope's office along with an executive style desk called Kieran.
See more of the furnishings on the set of Southpaw on Arhaus the blog and read a Q&A with Lombardo about her selections for the home.
Southpaw: Southpaw is an upcoming 2015 sports drama directed by Antoine Fuqua and written by Kurt Sutter. The film stars Jake Gyllenhaal, Forest Whitaker, and Rachel McAdams. The film is scheduled to release July 24, 2015, by the Weinstein Company.
Arhaus: Arhaus offers a compelling, inspiration-filled environment—stores average 16,000+ sq. ft.—filled with one-of-a-kind handcrafted home furnishings reflective of a distinct global point-of-view. Arhaus collaborates with skilled artisans all over the world who craft its many exclusive collections, which are complemented by timeless upholstered pieces (slipcovered, leather and custom-ordered seating), indoor and outdoor dining tables and chairs, outdoor upholstery groups, bedroom and office furniture, seasonally-inspired accessories, private label bedding, throws and accents, tabletop and more. Made of the world's finest materials (with attention to sustainability), products are presented in dramatic lifestyle settings infused with original architectural elements imported from Parisian flea markets and Tuscan villas, hand-painted murals, Arhaus Relics or repurposed antiques, and the freshest botanicals sourced locally in each store market. Privately owned and operated, the home furnishings retailer was founded in 1986 by father and son, Jack and John Reed. Arhaus is headquartered in Cleveland. For more information, call 866.427.4287 or visit us on the web at arhaus.com.
"Furnishing a better world." This is our philosophy; it dates back to 1986 when father and son, Jack and John Reed, opened the first store location in Cleveland and vowed never to use wood from the world's endangered rainforests in the making of an Arhaus design. Today, nearly 50 percent of our collections are made of recycled material—everything from glass to metals like copper and wood cast off from far off lands. To ensure our values are upheld, we work with artisans who share our earth conscious beliefs and use renewable and recycled materials when crafting pieces for our stores. Sustainably sourced timbers like teak, bamboo and mango—grown for the sole purpose of building—are used. And because we love a good story, we use reclaimed materials whenever possible, namely wood from countries tearing down dilapidated barns, shipyards and rural structures, and we refurbish one-of-a-kind antiques that we call Relics. To further minimize our impact on the environment, our stores, corporate offices and even delivery trucks operate at maximum energy efficiency and promotional pieces are printed using soy-based ink and on recycled paper.