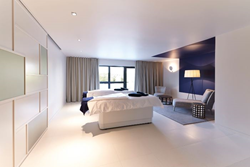 Within its 500m² area, the spa offers six treatment rooms as well as two private suites...
SAINT-MALO, FRANCE (PRWEB) July 23, 2015
Phytomer celebrates the evolution of its flagship spa with the May 2015 opening of Phytomer Spa and Wellness, a new, sustainable spa facility dedicated to the holistic fusion of beauty and well-being. Located on France's rugged Brittany Coast, an area rich in marine biodiversity, the spa shares its home with parent company Phytomer Laboratories, a pioneering force in marine skin care for more than 40 years. Designed to the smallest detail by Phytomer president Antoine Gédouin, Phytomer Spa & Wellness reworks Breton architecture in a natural, high-tech and eco-friendly way, reflecting the natural beauty of the region. Nestled in a peaceful garden and constructed with natural materials such as wood, granite and marble, it fits perfectly into its surroundings. Solar panels adorn the otherwise traditional roof, underscoring Phytomer's deep commitment to sustainability, while the building's glass facade immerses the interior space in natural light which is reflected by the harmonious arrangement of rooms and furnishings.
Within its 500m² area, the spa offers six treatment rooms as well as two private suites, both with a soaking tub and hammam. Each room is outfitted with new-generation beds and advanced professional equipment for exceptional comfort, calm and relaxation. The spa menu offers a range of face and body treatments that delight the senses and address all skin types and concerns. Clients may opt for individual treatments, such as the Detox Marine Body Wrap or the Extended Youth Wrinkle Correction Firming Treatment for the face, each lasting one hour, or may spend a half-day indulging in the four-hour Marine Quintessence Treatment which involves a premium anti-aging facial, revitalizing body massage, choice of bath or hammam and extended relaxation time.
Prior to treatment, each client receives an individual consultation and a full skin diagnosis. Visible and measured efficacy is at the heart of each protocol and treatments are expertly choreographed with professional movements developed in partnership with a renowned French osteopath. When the treatment concludes, the sense of serenity is prolonged as the client retires to a peaceful, dedicated relaxation area. "A visit to Phytomer Spa and Wellness is a transformative experience, in every sense," says Lenette Casper, President of Phytomer USA. "To receive Phytomer treatments in the elegant new spa, surrounded by the enduring natural beauty of the brand's birthplace and home, rejuvenates both the body and the soul," she continues.
All face and body treatments provided at the spa have been designed for optimal efficacy, pleasure and sensoriality, to stimulate the senses and calm the mind for an unforgettable well-being experience. Surrounded by the energy of the sea and vested with extensive spa expertise, Phytomer Spa & Wellness offers refuge and renewal, both inside and out.
A virtual tour of the facility as well as a full treatment menu, hours of operation, address and contact information are available online at http://www.spaphytomer.com
Phytomer at a glance:
With over 40 years as the leader in the marine skin care, Phytomer is now a pioneer in the field of marine biotechnology, the future of results-oriented cosmetics. This is the newest technology to create innovative, 100% natural skin care ingredients. Based in Saint-Malo, France and distributed in 70 countries worldwide, Phytomer has a reputation of leadership and expertise within the spa industry. With Phytomer meaning "plant of the sea," we utilize seawater, seaweed or seaside plants in every retail and professional product, combining science with the natural powers of the sea. We are one of the only spa brands with our own laboratory, allowing us to research and cultivate our own ingredients, develop unique cosmetic formulas, manufacture skin care products and create cutting-edge professional treatments to deliver remarkable results.