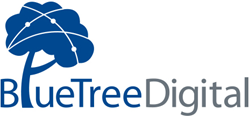 Reston, VA (PRWEB) July 23, 2015
BlueTreeDigital's CEO, Nicole Skuba, presented a guest lecture on branding to an online graduate-level marketing course in the University of Virginia School of Continued and Professional Studies. The course on New Media Strategies, part of the e-Marketing Graduate Certificate Program, examines the strategic use of new media technologies for reaching target audiences in the business, nonprofit, and public sectors.
The subject of Nicole's lecture was "Branding in a New Media Environment & Online Reputation Management." In her talk, Nicole encouraged businesses to asking tough questions. Defining that specific target audience is critical. "Who is your ideal customer? Who are the decision-makers about buying?" she asked. "And, what customers do you not want?" Identifying your target audience by gender, age, web browsing habits, and more can help businesses refine their marketing endeavors.
Nicole also shared insider statistics on audience makeup for social media outlets including Twitter, Facebook, Pinterest, Instagram, and more, along with business tips for using them. "For example, if you're trying to reach college graduates, 30-64, you should be aware that LinkedIn is the only network where ages 30-64 more likely to be users than ages 18-29, and that 50% of college graduates use it," noted Nicole. "Doing your homework on your audience and on social media outlets helps you shape your branding campaigns. Once you have your 'why' share it with your target audience in the most effective way: social media."
Read more branding tips at the BlueTreeDigital blog. To schedule a marketing consultation with Nicole Skuba and BlueTreeDigital, contact them at contact(at)bluetreedigital(dot)com.
###
BlueTreeDigital is a Northern Virginia-based marketing agency offering a full range of services, including strategy, branding, social media, website design, media buying, SEO, design services, email marketing, and much more. BlueTreeDigital serves local businesses, technology companies, and government sector clients. Their mission is to help customers grow their brand, grow their leads, and grow their dreams through marketing. Visit them online at http://www.bluetreedigital.com/.