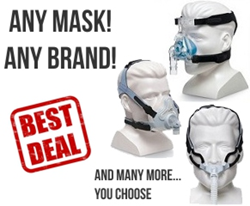 Las Vegas, Nevada (PRWEB) July 22, 2015
Millions of Americans suffer from sleep disorders, requiring them to use specialized equipment in order to get a good night's rest. This store is located in Las Vegas and offers quality products that are used to assist individuals who are suffering from the inability to remain asleep throughout the night.
"Many people experience sleep issues every night. Here at CPAP Store Las Vegas, we provide a wide assortment of solutions to be used for the treatment of sleep apnea and other sleeping disorders. Our goal is to simplify the process of finding the right equipment so that our customers can sleep more easily," stated one of the representatives of this online shop. "We understand just how difficult a diagnosis of sleep apnea can be for most people, so our employees try to be as compassionate as possible while serving our customers with the highest level of satisfaction.
The store is designed for customers who have already received a diagnosis of sleep apnea. A prescription is required in order for the customer to be able to purchase a CPAP machine. The store provides a selection of different machines and masks in a variety of price ranges, giving customers flexible, affordable options. Manufacturer warranties are provided by the makers of the equipment, taking away some of the discomfort of buying an unfamiliar item. In most cases, the warranty is good for two years.
First-time customers who have questions about CPAP machines or masks are invited to call to speak with a customer service representative. The website includes an informative blog and FAQ section, providing additional details regarding the use and purchase of CPAP equipment.
About CPAP Store Las Vegas
CPAP Store Las Vegas is an online provider of equipment commonly used for sleep therapy. Their products, which are sourced from name-brand manufacturers, include a varied assortment of machines, humidifiers, masks, accessories, and supplies. The store can be contacted by phone or through the completion of an online form. All of the equipment is brand new.
CPAP Store Las Vegas
Las Vegas, Nevada
1.844.222.1999 (phone)
cpapstorelasvegas.com
###