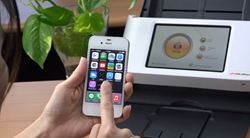 SANTA FE SPRINGS, Calif. (PRWEB) July 23, 2015
Plustek Technology Inc., a leading manufacturer of imaging solutions, announces the eScan A150 "job button" features at World Congress 2015 in Dallas, TX (booth #322), taking place July 26-29. The eScan now allow users to save their job as a job button for those repetitive scanning task.
The job button offers an efficient mean for workgroups to save and assign their scanning workflows with a button and deliver the images to any destination in a snap. Multiple buttons can be saved and easily accessed from the job menu. For larger workflow deployments, eScan lets users easily export and import buttons, through an USB flash drive, without any professional IT assistance.
"The new job button is really revolutionary and produces efficiencies that aren't available with any other scanner. By streamlining the digitalizing process using the new job button feature of the eScan A150, will reduce tiresome scanning tasks and confusion with multiple jobs," said Robert Fuchs, marketing manager for Plustek USA. "We are very excited to introduce the job menu function to the market, especially to customers' with complex scanning workflows."
Users can easily create these buttons as a shortcut, assign a unique name for each job, and simply access the buttons from the job menu to streamline any digitizing needs with a touch.
About eScan A150:

Built-in 7" touchscreen standalone network scanner
Deliver scanned files to any destination with Ethernet or WiFi connection
Scan and save to e-mail, network folders and mobile devices
Scan to multiple destinations with a single scan
50-sheet capacity document feeder
Save a scan task as a job button
Job buttons can be group into eScan's job menu
The eScan A150 retail priced at $599 and available from authorized resellers. For more product information and photos can be found by visiting http://escan.plustek.com.
Plustek is at booth #322 @ NCMA World Congress 2015 show, 7/26-28. For more information about the Congress, visit http://www.ncmaworldcongress.org/program-agenda.
About Plustek:
Plustek is an imaging scanning and mobile surveillance solution provider ("Capturing What Matters"). We design and manufacturer an array of document, mobile, book, film, photo scanners, as well as in-vehicle video systems. Based in Los Angeles with 30 years of integrated design experience. For more information, please visit http://www.plustek.com/usa