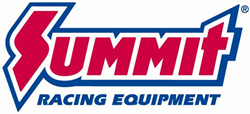 Tallmadge, OH (PRWEB) July 27, 2015
Continental is well-known for making tires for high performance and luxury cars, but it also makes high quality hose, belts, and engine accessory drive components for many domestic and import cars, trucks, and SUVs. Summit Racing carries a large selection of Continental OEM replacement products.
Super Elite Blue Hose Kits
Super Elite Hose is made from a special EPDM rubber, so it will last 5 to 10 times longer than regular hose. A Nomex®-reinforcing sleeve gives the hose a burst rating 10 times higher than typical rayon-reinforced hose. And you sure won't miss that electric-blue color when you open the hood. The Super Elite Blue Hose Kits include upper and lower radiator hose, and heater hose. Some kits have a bypass hose if needed.
Accu-DRIVE Serpentine Belt Tensioners
Belt-driven engine accessories won't function very well if the serpentine belt is slipping. Continental Accu-DRIVE automatic belt tensioners meet or exceed OEM specifications for all major car manufacturers. By applying the correct amount of tension, an Accu-DRIVE tensioner prevents belt slip and helps keep accessory pulleys in proper alignment. That means belt-drive accessories can do their job and live a long, happy life.
Elite Poly-V Belts
Elite Poly-V belts have Continental's Quiet Channel Technology which makes them much quieter than other belts. Advanced EPDM rubber compounds, a specially treated polyester tension member, and a unique staggered "Helicog" profile mean the belts stretch less and transfer more power than other belts.
Elite Timing Belt Kits
These kits take the hassle out of a timing belt service. They include the belt, tensioners, and cam and/or crank seals; most kits also include the idler pulley. The belts are made with reinforced rubber compounds and polymers, and feature no-slip precision-molded teeth.
Summit Racing also carries Continental radiator, heater, fuel injection, vacuum, and emissions hose; idler pulleys; clamps and hose connectors; and drive, power, and balance shaft belts.
Summit Racing Equipment
http://www.SummitRacing.com
1-800-230-3030