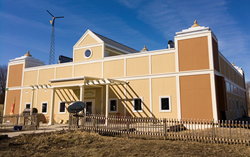 Fairfield, IA (PRWEB) July 24, 2015
Students can now earn a master's degree in sustainable living while also participating in the Peace Corps, thanks to a new partnership between Maharishi University of Management (MUM) and the Peace Corps Masters International Program.
In MUM's two-year master's in sustainable living degree program, students typically do academic coursework for the first year and then spend a second year gaining practical field experience in community building and sustainability projects.
MUM students will now have the option of fulfilling their field experience in the Peace Corps. They join the Peace Corps at the beginning of their second year at MUM and begin a two-year tour of service in their assigned country.
For more information, visit our website.
---
Founded in 1971, Maharishi University of Management (MUM) offers Consciousness-Based℠ education, a traditional academic curriculum enhanced with practice of the Transcendental Meditation® technique, which reduces stress, develops total brain functioning and better health, and cultivates creativity and intelligence. Located in Fairfield, Iowa, and accredited by the Higher Learning Commission, MUM offers bachelor's, master's, and doctoral degrees in the arts, sciences, humanities, and business. Visitors Weekends are held throughout the year. For more information, call the Admissions Office at 800-369-6480 or visit http://www.mum.edu.
---
The Peace Corps sends the best and brightest Americans abroad on behalf of the United States to tackle the most pressing needs of people around the world. Volunteers work at the grassroots level to develop sustainable solutions that address challenges in education, health, economic development, agriculture, environment and youth development. Through their service, volunteers gain a unique cultural understanding and a life-long commitment to service that positions them to succeed in today's global economy. Since President John F. Kennedy established the Peace Corps in 1961, nearly 220,000 Americans of all ages have served in it, working in 140 countries worldwide.