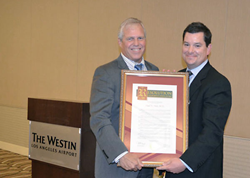 Under Yost's leadership, the CSA joined the effort to defeat Proposition 46, ensuring that all Californians continue to have access to highly specialized surgery and anesthesia care.
Orange, Calif. (PRWEB) July 22, 2015
Allied anesthesiologists contribute in many ways. For the past year, Dr. Paul Yost served as President of the California Society of Anesthesiologists, representing more than 3,000 anesthesiologists throughout California.
Under Yost's leadership, the CSA joined the effort to defeat Proposition 46, ensuring that all Californians continue to have access to highly specialized surgery and anesthesia care.
Working to allow the practice of Anesthesiologist Assistants in California, the CSA introduced its first credible legislative effort with the expert help of KP Public Affairs. AB 890 (Ridley-Thomas) would allow certified Anesthesiologist Assistants (physician assistants for anesthesiologists) to practice in California. Although the bill didn't make it out of committee during this legislative session, the CSA is leveraging its experience in the legislative arena to represent its patients and the specialty.
From an organizational perspective, Yost's most memorable achievement was completing a strategic analysis and reorganization of the CSA management structure. Following the analysis, CSA moved its central office from San Mateo to Sacramento, with closer proximity to the Capitol where the CSA can better advocate for its physician members and their patients.
Yost said, "It was an incredibly tumultuous and busy year, filled with world class educational events in Hawaii and San Francisco, board meetings, strategic planning sessions, national meetings, Capitol hearings, press releases, visits to anesthesiology training programs, interfacing with the ASA, CMA and other specialty societies, district meetings, and just talking with members.
"Although it was a year filled with upheaval, change brings opportunity. The CSA has taken advantage of that opportunity and is now financially stable and very well positioned to represent our patients and our specialty well into the future." From a personal standpoint, Yost was humbled to be the spokesperson for his profession and his physician anesthesiologist colleagues in California.
Yost practices adult and pediatric anesthesiology at St. Joseph Hospital in Orange, where he is Director of Cardiac Anesthesiology, and at Children's Hospital of Orange County (CHOC Children's), where he is Chair of the Department of Anesthesiology, Co-Director of Pain Management and Past President of the Medical Staff.
Yost thanked his colleagues at Allied Anesthesia for allowing him the time to be involved on behalf of the CSA.
"This year has frequently taken me away from my clinical responsibilities and I know that my absence has been a burden upon other Allied physicians who had to cover my clinical cases and call," Yost said. "Thank you! Allied anesthesiologists are the best!"
---
About Allied Anesthesia: With over 100 highly qualified physician anesthesiologists on staff, Allied Anesthesia provides adult and pediatric anesthesia services to St. Joseph Hospital of Orange, CHOC Children's Hospital, St. Jude Medical Center in Fullerton, San Antonio Community Hospital in Upland, St. Mary's Hospital in Apple Valley and many other Southern California health care facilities. In 2014, Allied Anesthesia joined with Fullerton Anesthesia Associates and Upland Anesthesia Medical Group to consolidate best practices in more than six hospitals and more than a dozen ambulatory surgery centers. The expanded medical practice is dedicated to offering the highest comprehensive quality of care and the most cost-effective procedures in all facilities they serve. All Allied physician anesthesiologists are board certified in Anesthesiology and they staff and manage the most efficient operating rooms in Southern California. Allied is a member of the California Society of Anesthesiologists, the American Society of Anesthesiologists, and the Anesthesia Quality Institute.