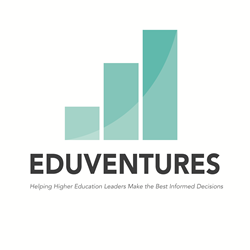 "Our clients have found that calculating the return-on-investment of development officers can be critical when requesting additional funding, making employment decisions and explaining fundraising efforts to governing boards."
Boston, Massachusetts (PRWEB) July 23, 2015
Eduventures, Inc., the leading research and advisory firm that is focused exclusively on analyzing the forces that are transforming higher education, today announced the release of the latest operational and performance benchmarks from the Eduventures' Managing Returns annual survey. This research uses performance indicators that provide a dashboard of operational metrics to evaluate development performance and resource allocation for higher education institutions.
Since 2007, Eduventures' Managing Returns data set has served as a trusted source for detailed staff and productivity information in the industry, enabling advancement leaders to evaluate the health of their operations and create informed growth strategies. This report groups institutions by total dollars raised, and comparisons are made possible through the use of standardized definitions for reporting and collecting information to account for structural differences when standardization is not feasible. Depending on an institution's fundraising cycle and other factors, Eduventures has determined that high returns on investment are not necessarily a sign of strength and low returns are not necessarily a sign of weakness. The following elements must be considered to provide context to an institutions' performance:

Long-term fundraising goals
Current campaign phase
Recent staff or budget investments
Strength of donor pipeline
Culture of philanthropy
Average tenure of staff
Fundraising Area Benchmarks
Fundraising area benchmarks are focused on the staff who are directly responsible for soliciting gifts plus the managers and support staff for those people. Institutions can use these benchmarks to determine if fundraising resources are properly balanced for current operations or to identify areas that will need additional or reallocated investment to grow fundraising to the next level.
"This annual survey is intended to help development managers conduct internal self-assessments of information and programs," said Youme Yai, Manager for Eduventures Quantitative Research Team. "Our clients have found that calculating the return-on-investment of development officers can be critical when requesting additional funding, making employment decisions and explaining fundraising efforts to governing boards."
About Eduventures
Eduventures is the leading research and advisory firm that is focused exclusively on analyzing the forces that are transforming higher education. Building on twenty years of success in working with education leaders, Eduventures provides forward-looking and actionable research based on proprietary market data, and advisory services that support both strategic and operational decision-making. Our recommendations and personalized support enable clients to understand the top traits of leaders in critical disciplines and to evaluate the opportunities presented by new technologies. For more information about Eduventures research, practice areas, and team, visit us at http://www.eduventures.com.
Members of the media who wish to speak to the author of this research can contact Ellen Slaby, Vice President of Marketing at eslaby(at)eduventures.com.