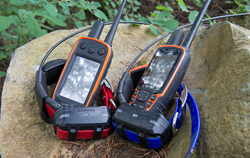 I think this product will be well received by rabbit and squirrel hunters.
(PRWEB) July 23, 2015
Garmin International, the global leader in dog GPS technology, has announced the newest products to their track and train line up, the Garmin TT15 Mini and Garmin T5 Mini GPS tracking collars. The Mini series GPS dog collars are designed as a lighter weight, low profile collar that will fit the slimmer neck sizes of the smaller dog breeds.
The Garmin Mini collars will likely meet the needs of many hunters looking for a GPS tracking collar that will properly fit their smaller hunting dogs as well as provide useful features and reliable performance. The Garmin TT15 Mini and T5 Mini collars have the same great features as the full-sized Garmin TT15 and T5 collars that were released in 2014 with one exception. The new Mini collars include a feature referred to as "Sleep Mode". With "Sleep Mode" users can save battery life by remotely disabling and re-enabling transmission from the collars. It should be noted that the new "Sleep Mode" can only be activated when coupled to a Garmin Alpha 100 handheld.The Garmin Mini collars are available individually or can be bundled with either the Garmin Alpha 100 handheld or the Garmin Astro 320 handheld.
"For years we've received requests to modify the Garmin GPS tracking collars to fit small dogs. Despite our best efforts we have not been successful in properly fitting a reliable GPS collar on smaller dogs," explains Buddy Woodberry of Double U Hunting Supply, " Now with the new Garmin Mini series, that issue has been solved once and for all! Not only do I think this product is a "must have" for the rabbit and squirrel hunters but the big game handlers will appreciate knowing what their pups are up to in the field. Double U Hunting Supply will begin taking pre- orders on July 23rd, 2015. We expect to be shipping collars out to our customers by mid to late August, 2015.
Double U Hunting Supply is the leading expert in the Garmin Alpha and Astro Series GPS tracking collars. To read Double U's extensive Product review of the Garmin Mini Collars, or place an order today, contact Double U Hunting Supply by visiting our website http://www.dusupply.com or placing a call at 855-384-8687.