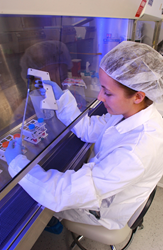 Poway, CA (PRWEB) July 28, 2015
VetStem Biopharma will be offering weekly private guided tours of our new facility, followed by a live stem cell credentialing course to local area veterinarians.
The tour and course will be given every Wednesday at 6pm to local interested veterinarians (3 RACE approved CE units at no charge) at VetStem's Poway facility. Staff members are welcome to attend with their veterinarian as well. Participants will be able to tour the new GMP facility, where stem cell products will be produced under 3 FDA INAD's. Participants will learn about Regenerative Medicine, with in-depth information on stem cell therapy in particular. After completing this course, these local practitioners will be equipped to offer this exciting treatment modality to their patients that suffer from osteoarthritis and tendon, ligament and muscle issues.
VetStem continues to strive to bring the best Regenerative Medicine therapies to veterinarians to help provide better quality of life for animals. VetStem is currently providing stem cell services for two studies, one at a university and one at a major non-profit animal medical center. In addition to this, VetStem is working with individual veterinarians to learn more about how stem cell therapy works in animals with immune mediated diseases.
About VetStem Biopharma
VetStem Biopharma is a veterinarian lead company that was formed in 2002 to bring regenerative medicine to the profession. This privately held biopharmaceutical enterprise, based near San Diego (California), currently offers veterinarians an autologous stem cell processing service (from patients' own fat tissue) among other regenerative modalities. With a unique expertise acquired over the past 12 years and 11,000 patients treated by veterinarians for joint, tendon or ligament issues, VetStem has made regenerative medicine applications a therapeutic reality beyond the realm of research. The VetStem team is focused on developing new clinically practical and affordable veterinary solutions that leverage the natural restorative abilities present in all living creatures. The company's stated mission being "to extend and enhance the lives of animals by improving the quality of recovery in acute conditions, but also by unlocking ways to slow, stop and ultimately revert the course of chronic diseases". In addition to its' own portfolio of patents, Vet-Stem holds exclusive global veterinary licenses to a portfolio of over 55 issued patents in the field of regenerative medicine.
Contact
VetStem Biopharma , Inc
Kristi Hauta
Marketing Operation Manager
858-748-2004 ext 208
khauta@vetstem.com