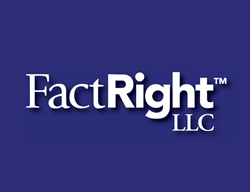 "Gene has the ideal skill set to craft solutions for brokerage firms and RIAs that increasingly need more help around complex products." - Scott Smith
Eden Prairie, MN (PRWEB) July 23, 2015
FactRight LLC, a leading provider of risk management and third party due diligence services to the alternative investment industry, announced today that Gene Chilton has joined the company as Vice President of Business Development.
Chilton will lead all marketing and sales related efforts for FactRight and sister company FR Risk Management.
"Gene will play a key role in the growth of FactRight and FR Risk Management,"  said Scott Smith, President and CEO. "He's a proven expert at enhancing the value of his client's businesses through strategic initiatives that impact entire organizations. We're extremely excited to have him do the same work with our current and prospective clients. As complex products and due diligence have evolved, so have the products and services offered by our companies. Gene has the ideal skill set to craft solutions for brokerage firms and RIAs that increasingly need more help around complex products."
Gene has more than 14 years of professional experience working across several sectors of the financial services industry. He has had the opportunity to create and foster the relationships of some of the world's largest financial institutions as well as build an independent brokerage firm utilizing state of the art technology and product offerings to bring tremendous value to the market. He has also been directly involved in the creation and development of SEC and FINRA-compliant marketing materials that are still in practice today.
Chilton is a licensed general sales representative (Series 6, 63 and life insurance licenses) and also holds a Chartered Life Underwriter (CLU). He earned a bachelor's degree from the University of Minnesota and his MBA from the University of Minnesota's Carlson School of Management.
About FactRight, LLC
Founded in Minnesota in 2006, FactRight is an innovative service organization providing outsourced risk management and analytical due diligence to the alternative investment community. The FactRight team features highly credentialed professionals who specialize in complementary disciplines. Our staff includes licensed attorneys, certified public accountants, certified fraud examiners, internal auditors, chartered financial analysts, and former due diligence officers of financial services firms.
Our multidisciplinary approach enables us to fill in risk management and due diligence voids faced by many of our clients. By having a partner that proactively keeps pace with an ever-changing industry, independent broker dealers can be confident that they have the guidance they need to meet regulatory challenges.
Additional information, including details on our sister company, FR Risk Management LLC, can be found by visiting http://www.factright.com.