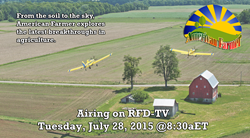 Jupiter, FL (PRWEB) July 27, 2015
American Farmer announced today an episode airing Tuesday, July 28, 2015 at 8:30 am ET on RFD-TV.
In this exciting episode, American Farmer explores Air Tractor, who for more than 50 years has been manufacturing the world's best agricultural aircraft in the industry. On location at the Olney Municipal Airport, American Farmer takes a behind the scenes look at Air Tractor to educate viewers on its extensive line of Ag aircraft.
The show also includes Abbott & Cobb, a primary resource for superior quality vegetable seed. This segment educates viewers on the company's sweet corn breeding, production, and marketing efforts. Join us as we enlighten audiences on Abbott & Cobb's ability to offer commercial growers and shippers the highest quality sweet corn varieties, which are all bred and selected for their remarkable flavor, texture, longer holding ability, attractiveness, and excellent disease resistance.
In addition, spectators will learn about SUL4R-PLUS®, a new patent-pending pelletized sulfate product by Charah, Inc., that is unlike any other sulfur-fertilizer on the market, making sulfur application easier, enhancing soil quality, and improving production of crops.
"From superior soil products and seeds to high-end aircraft technologies, this episode is packed full of useful information for farmers and ranchers around the country, " said Jake Meiteles, Producer for the series.
About American Farmer:
American Farmer is a breakthrough program on a mission to showcase the latest advancements in agriculture and farming. From seed to harvest, livestock and more, our producers have traveled the country covering the people, places and issues impacting all areas of farm country.
American Farmer airs Tuesdays at 8:30am ET on RFD-TV. Check your local listing for show times. For more information visit: http://www.AmericanFarmerTV.com or contact Jake Meiteles at: (866) 496-4065 x 830 or via email at: [email protected]