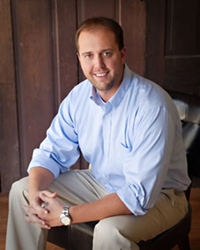 I feel that it is very important to keep updated on all of the newest techniques and methods of treatment so I can offer the very best to my patients.
Greenville, SC (PRWEB) July 23, 2015
Greenville, SC, dentist, Dr. Matthew Warner and team, provide treatment for patients of all ages, including children. Willoughby Dental emphasizes the importance of early oral health care to aid in the detection of early stages of tooth decay.
A recent study from the British Association of Dental Therapists has shown that tooth decay in children has increased by 14% since 2011. The study also investigated how health behaviors from parent to child can be directly related to the potential transmission of oral bacteria. If parents are diagnosed with tooth decay or gum disease, it is important to take action and not pass it along to their children. The most common health behaviors of transmitting oral bacteria include sharing a spoon when feeding the child and kissing the child on the lips.
In addition to educating parents about the risks of transferring oral bacteria to their child, Dr. Warner also wants to emphasize the importance of good oral hygiene practices for children.
"Tooth decay is caused by many other factors besides sharing a spoon or kissing on the lips. It is important to avoid feeding your child sugary drinks. Having your baby constantly suck on a bottle of juice, milk or other sugary drinks can contribute to Baby Bottle Tooth Decay. This is usually caused by the prolonged exposure of sugary drinks on the baby's teeth."
Without proper dental care, children are susceptible to oral decay. According to the American Academy of Pediatric Dentistry, your child should visit a dentist within six months after the presence of the first tooth by his or her first birthday. With regular check-ups and cleanings, Dr. Warner can ensure healthy and happy smiles. It is recommended by the ADA to visit a dentist at least twice per year, but more frequent cleanings may be needed based on individual needs. During an exam, the dentist will screen the child's mouth for tooth decay and gum disease. Regular professional dental cleanings are essential for a healthy mouth. During the child's dental cleaning, any buildup of plaque or tartar will gently be removed.
Healthy smiles should not stop at the dental office. It is important to educate your child on how to make good food choices and how to properly brush and floss at home.
Willoughby Dental has the experience and qualifications to care for your child's teeth, gums and mouth throughout various stages of childhood. For more information about dentistry for children, contact the Greenville dentist.