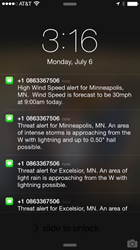 Aeris Enterprise is helping us take advantage of every dry, suitable hour at the site.
Minneapolis, MN (PRWEB) August 11, 2015
Aeris Enterprise, an innovative weather alerting software platform, powered by AerisWeather, is being used by M.A. Mortenson to facilitate management of its downtown Minneapolis construction projects.
Aeris Enterprise enables construction companies and other weather-sensitive businesses to maximize operational efficiencies and improve safety margins by allowing users the ability to anticipate every hour of weather, days in advance - while alerting job supervisors in the field when weather is about to turn dangerous or unfavorable (too wet, too windy, too cold, etc.) for outdoor work activities.
M.A. Mortenson, one of America's most successful construction firms, is erecting a multi-purpose stadium in downtown Minneapolis. Their ability to preview multiple weather models, days in advance - accurately identifying expected snow, rain, wind, and temperature (heat and cold) events - provides job supervisors the weather intelligence they need to save money on scheduling and operations, while taking job safety and risk management to the next level.
Weather extremes are increasing, nationwide. New times call for powerful new tools. With Aeris Enterprise, users can access sophisticated mapping displaying both current weather and future weather details for the location and job sites they care about; allowing them to take full advantage of good weather. The service provides users with the ability to create Custom Future Weather Alerts: texts, e-mails, and voice messages that are delivered to mobile devices to warn of impending hail, lightning, floods or high winds - or give a timely heads-up that enough rain will fall tomorrow to disrupt a concrete pour, or winds will top 25 mph and tower crane operators may be impacted the day after tomorrow. Aeris Enterprise takes the guess-work out of future weather, empowering users with sophisticated tools necessary to make consistently smarter decisions related to staffing and planning, while alerting managers of potential severe weather-related problems, long before they become potential liabilities.
"I get the text alerts several days in advance of the forecast high winds and talk about the options in our planning meetings. This enables me to ask questions and avoid damage or delays sparked by high winds, extreme heat, or rain falling at sensitive times during the construction process," said Allen Troshinsky, Vice President, Operations for Mortenson Construction. "We have a narrow window to complete work on the [football stadium]. Aeris Enterprise is helping us take advantage of every dry, suitable hour at the site between now and the summer of 2016," he added. "It's also helping to keep our trade partners out of trouble."
Mortenson Construction is a national, family-owned company headquartered in Minneapolis. They have completed projects for industries ranging from sports stadiums and event centers to hospitality and real estate developments. To discover more about Mortenson Construction, visit http://www.Mortenson.com.
AerisWeather creates custom weather solutions for weather-sensitive businesses. The Aeris platform includes raw data, graphics, enterprise level software, and mobile apps. AerisWeather assists businesses in operating more efficiently, profitably, and safely through GPS-based weather alerting.